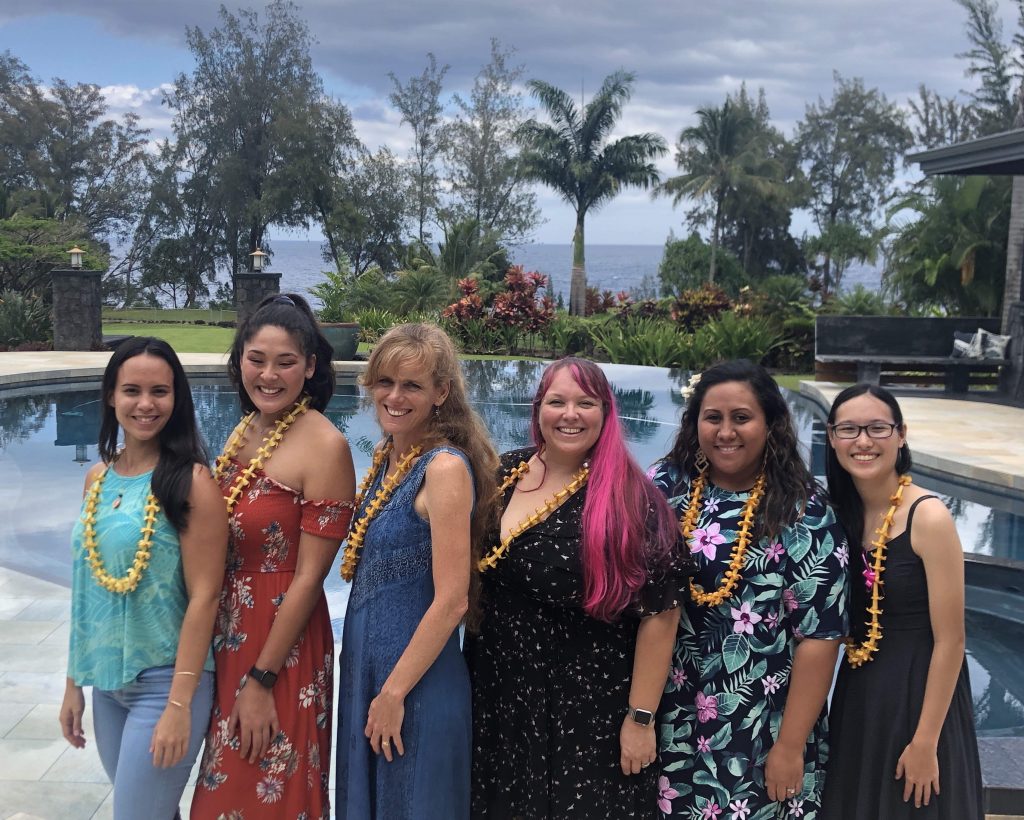 Proud to announce our AAUW Hilo Branch Scholarship Winners for 2019. Left to right: Shantel Akau, Kailee Yoshimura, Annalise Cogan, Heather Padilla, Skye Narvaez, Ariana Dolan. Not pictured: Mya Goodoni and Annabelle Mufalli. All inspiring women.
PRESENTING – our AAUW Hilo 2019 Scholarship Winners/ MORE ABOUT THEIR BACKGROUND!
Shantel Akau is pursuing her dream of becoming a Registered Nurse through the BSN program at UHH. While raising her four-year old daughter she works as a medical assistant and one day hopes to get a Master's degree in nursing and become an APRN in her hometown of Hilo.
Skye Narvaez will be graduating with her Bachelor's in Communications and Educational Studies in the Fall of 2019. In addition to being a mom of three, she plans plans to pursue a Master of Arts in Teaching and ultimately a Doctorate in Education.
Heather Padilla, a mother of two, works part-time as a Paraprofessional Tutor at Kea'au Elementary School. She plans to become an English teacher with a Supplemental Creative Writing Certificate.
Ariana Dolan is pursuing a Bachelor's in Agriculture and Animal Science and is also obtaining a Bee Keeping Certificate. She volunteers at a local veterinary clinic and plans to attend Colorado State University for a Doctorate in Veterinary Science.
Maya Goodoni has a BA in Environmental Studies from UHH and is currently enrolled in the Tropical Conservation Biology and Environmental Studies Internship Track. Maya has done an internship on a permaculture farm in North Kohala and assisted with the humpback Pacific survery.
Kailee Yoshimura is working on her BS in Biology and hopes to continue to medical school and become a radiologist. She works for the USDA Pacific Rim ARC researching preventable agricultural diseases.
Annalise Cogan is grateful for educational and professional opportunities she has found in America. She was born and raised in Africa where she, her husband, and her four children were victims of an unstable government. Now Annalise is an American citizen and has enrolled in Hawaii Community College to complete her Associate's of Science degree in nursing as she is eager to devote her life to the care of others. Her ultimate goal is to compete a Masters of Science degree so she can become a nurse educator to help train future nurses.
Annabelle Nyers has set her sites on raising her family and being a college student. She is interested in becoming a draftsman, a surveyor or work in civil engineering. She is currently enrolled in the Architectural Engineering and AutoCAD Technology program at Hawaii Community College and plans on eventually continuing her education at a University of Hawaii campus.
---
—————
Prior Scholarship Winners:
2018:  Kaylee DeCambra; Kathryn Strong; Kaimalie Zirker; Amanda Alvarado; Liesl Nayeli .
2017:  Heather Ah Cook, Katherine S. Post, Jamae Valdez Balagot, Nicole Garcia
2016: Mya Yee Nandar, Carola Geitner, Jelyn Heaster,  and Marleena Scheffield
2015:  Ashley Fukuchi, Samantha Hanabaga, Kathleen Smith, and Heather Stever
2014:  Mary Kathleen Howe, Ilana Stout, Hoang-Yen Nguyen, Stacey Reed
2013: Debra Cannoles, Evelina Kocharov, Kristy Lungo, Noriko Sata
2012: Christine Nguyen, Corina Sampaia, Ashli Hirai & Mariah Partida
2011: Christine Nguyen & Corina Sampaia 
2010: Jamie Lee Cookson  & Jenny Lee Ramos & Samantha Hanabaga
Alison Martyn & Kelsea Machida 
2009: Melissa Johnson & Kendall Rau 
2008: Mahealani Lono & SJK Cardoza-Maikui 
2007: Amanda Arce & Kerry Ogawa 
2006: Lacey Price & Charmaine Bugado
2005: Christina Rossman 
2004: Tiffany DelaCruz & Ariel Marsh 
2003: Jennifer Camp & Tricia Macayan
2002: S. Goodman-Robinson 
2001: Deborah Hamamoto