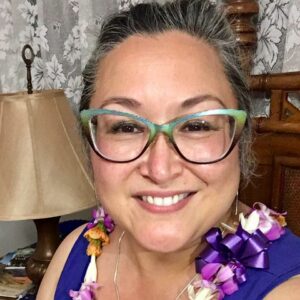 AAUW President's Message
February 2023
This year, I stepped into the role of President of the Hilo Branch of the American Association of University Women. This has allowed me to not only network with women all over Hawaiʻi but also to bring the organization into Hawaiʻi CC and UH Hilo. Both institutions are now organizational members of AAUW, allowing all students to join AAUW for free. We've also seen an increase in the number of faculty members who have joined AAUW and taken part in statewide educational and political activities in support of girls and women.
I came to AAUW because I felt drawn to be in community with strong women, and I found them in the very first Saturday meeting I attended. But I joined AAUW during COVID, so before I came to a meeting, I joined a Hilo branch book club online, and I vowed to join the monthly hiking club as soon as it felt safe to me. My involvement with AAUW started largely out of my need for an intelligent social outlet, but it quickly developed into an opportunity for service and political action.
Regardless of what your motivation was to join AAUW and what fuels your desire to remain a part of this organization, we all have one thing in common: the desire to achieve equity for women and girls in many different arenas. If we accomplish that through activism, great. If we accomplish that through your membership support and your presence at our social events, that's also great. AAUW-Hilo Branch is what we make it.
The organization has been lacking in diversity nationwide, and there have been calls to more intentionally build our membership and activities into a more inclusive and representative group, even in Hawaiʻi. I am proud to be part of this movement and do not shy away from the controversies it may bring up, though I remain committed as president to be the voice of our local members and support you.
At our state convention last fall, there was some dialogue about opening up AAUW membership to non-college folk, which has been on National's agenda for years. As your president, I will support the needs and desires of the group at large, and I hope we can count among our members people on both sides of the issue. What we need is open, forthright communication so that the future of AAUW reflects the needs and desires of its members.
If you believe in the fight for equity, fairness, and justice for women and girls, that is what AAUW is all about, and you're in the right place. Help us guide the organization into the form you wish to see it take while enjoying the togetherness that drew me to our group. I hope to see you at our next event!
Mahalo,
Melanie