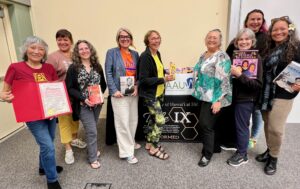 Welcome to the Hilo Branch of the American Association of University Women (AAUW). The purpose of AAUW is to advance equity for women and girls through advocacy, education, philanthropy and research. AAUW Hilo Branch promotes equity, education and development of opportunities for women and girls through its Scholarship Program, ongoing partnership with the University of Hawaii at Hilo and the Hawaii Community College, and participation in the AAUW Hawaii State Policy Committee. Members engage in general meetings which include presentations on local issues for women and girls, book clubs which lead to important local and national discussions, and a hiking club which explores local locales. There is a social aspect to our branch as well and we hope that soon we will be able to resume our events.
If you would like to be considered for a scholarship, please review  Scholarship Applications. Our current and prior Scholarship Recipients are described here. We rely on the generosity of our members to finance these annual scholarships and encourage you to  learn more of our Scholarship Fundraising Initiative. 
Members can find a current directory in Member Resources. Check out what is happening in Upcoming Events.
Questions? Please contact us here.