Past AAUW Hilo Sponsored Events
Varied Fund Raising Events
Educational Themes
---
GENERAL MEETING  – THREE GUEST SPEAKERS 1/11/20
At our General Meeting Saturday our AAUW group was inspired by our three speakers.  These included Left to right:  2019 Hawaii Community College Scholarship recipient Annalise Cogan sharing her journey as a scholarship recipient; Jennifer Stotter, Director of the office of Equal Opportunity at UHH; and Alyssa Grace and Christine Copes discussing the Journey to The Universe Educational Program.
———-
GENERAL MEETING  -GUEST SPEAKER ON ADVOCACY 11/2/19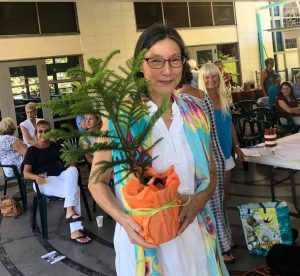 Today at our general meeting, we had the pleasure of having Koohan Paik-Mander speak about her advocacy journey and her present advocacy project focusing on climate change. Koohan stressed that locally we CAN make a difference. In line with Koohan's topic, we decided to gift Koohan a tree to plant. Mahalo Koohan!
 RUMMAGE SALE FOR SCHOLARSHIPS / 9/14/19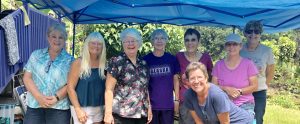 Pictured here are only a few of the many members who were busy sorting, pricing, selling at our successful September Rummage sale, where all proceeds benefit our scholarship fund.  Kudos to Micki Fitzgerald and  Susan Hicks as our  main organizers for this sale. 
________________
8/24/19
ALOHA LUNCHEON
Aloha Lunch at the gracious home of Faith Jones.
First pic – Noted Big Island artist Kathy Long (L) and Faith Jones (R) with the stunning painting  that Kathy Long donated to our silent auction to benefit local scholarships.  Second pic- Member Nina Buchanan (L)  presents a  donation to AAUW Hilo's scholarship fund in honor of  Susan Hicks (R).   Nina wanted to  recognize  Susan Hick's  consistent long time support of AAUW Hilo.  
5/4/19
SCHOLARSHIP LUNCHEON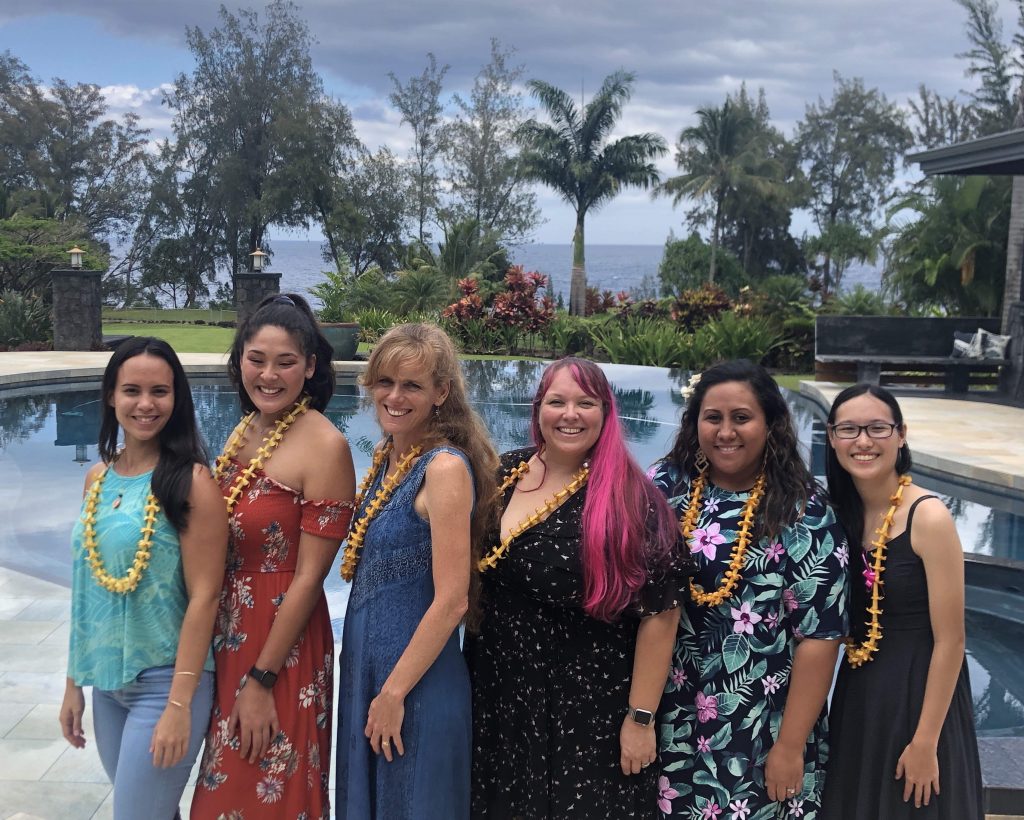 At our Scholarship Luncheon, we met our amazing 2019 Scholarship Winners. Everyone there was so excited as this is the first time we were able to award $8,000 in scholarships!
Winners left to right: Shantel Akau, Kailee Yoshimura, Annalise Cogan, Heather Padilla, Skye Narvaez, Ariana Dolan. Not pictured: Mya Goodoni and Annabelle Miafale. All inspiring women.  For more information about these winners, please click check out our scholarship page. 
---
April 7, 2019
Heritage Center in Honokaa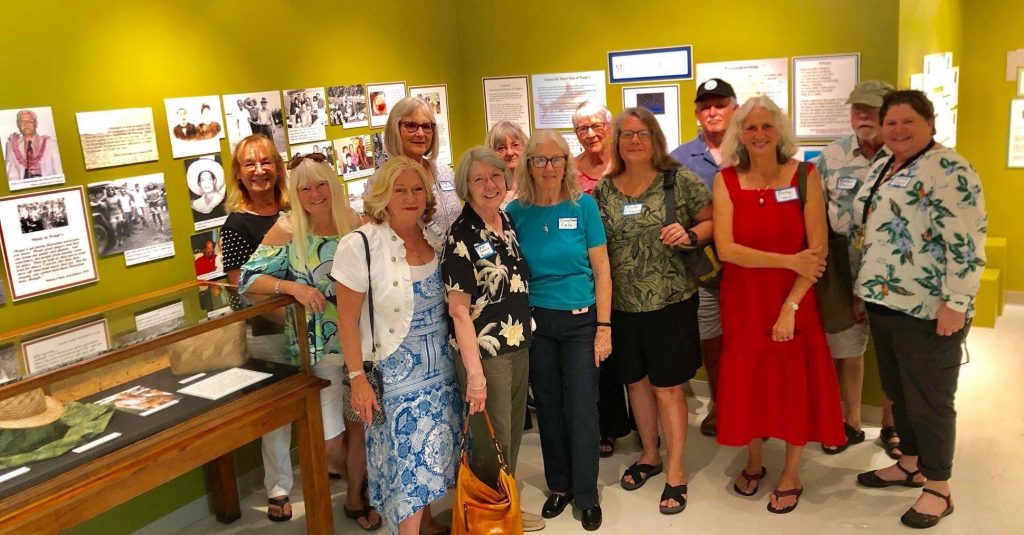 AAUW had an educational, historical excursion to the NHERC Heritage Center in Historical Honoka'a Town!  A brainchild of one of our AAUW Scholarship recipients, Nicole Garcia, we had a guided tour of the Museum "where the past comes alive!"  The history on the Plantation era and  Waipio Valley was extensive and amazing!
---
April 2,2019
"(Un) Happy Hour"
to honor Equal Pay Day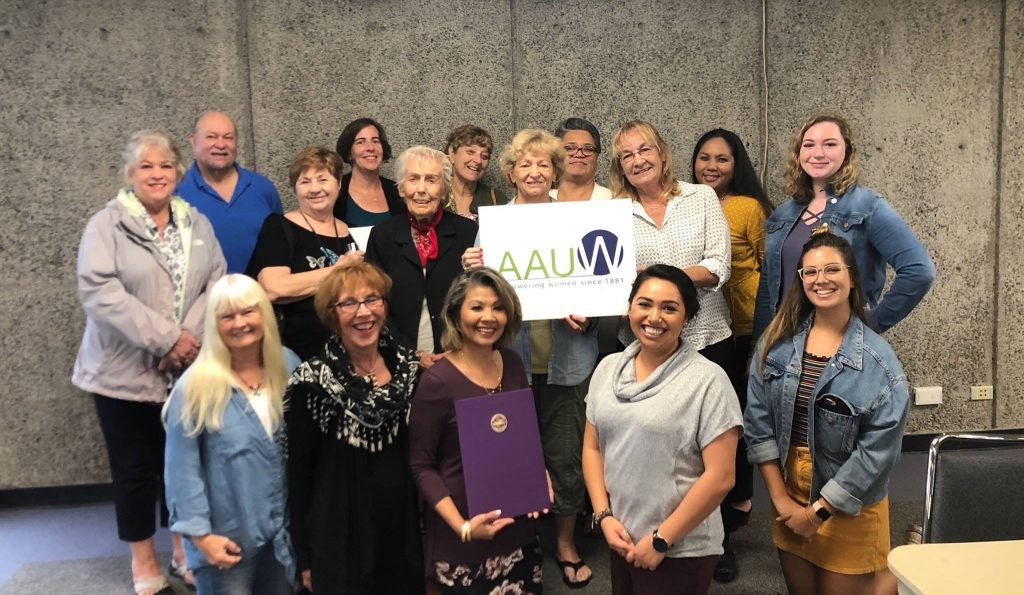 UH Hilo Women's Center, The Office of Equal Opportunity and AAUW Hilo hosted an "(Un) Happy Hour" to honor Equal Pay Day on April 2nd.The day was created in 1996 to show the inequity amongst pay wages between men and women in the workforce. This date symbolizes how far into the next year women must work in order to earn what men earned in the previous year. Data shows that women of color earn even less, some women's wages being as low as earning $0.53 for each $1.00 made by men. This event was to raise awareness on the campus.
The mayor's office presented the proclamation declaring Equal Pay Day – April 2, 2019- Hawai'i County. Rose Bautista, Mayor Kim's Executive Assistant, presented the proclamation to AAUW. 
---
Feb. 17, 2019
Awards Given at
Hawaii District Science & Engineering Fair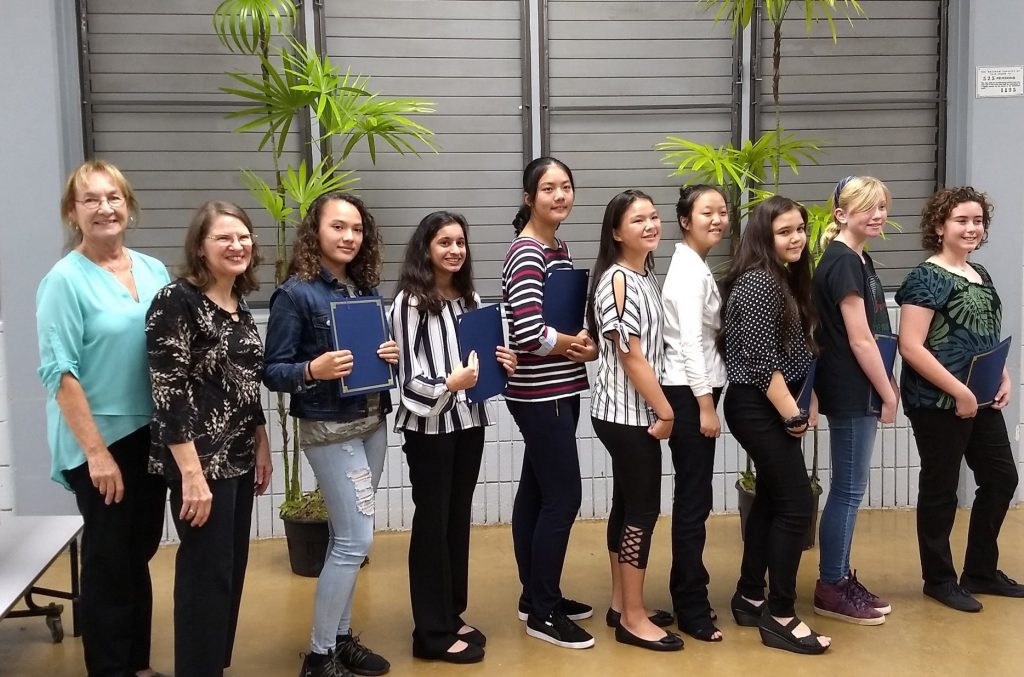 At the Hawaii District Science & Engineering Fair last night, AAUW Hilo presented awards to ten girls in the Junior Division.   Congrats to all!  Winners include:  Abigail Jensen, Irie Sakai, Alanna Sun, Rachel Tao, Isabella Mow, Jasmine Heaster, Taari Godbole, Eun Chong (Lois) Kim, Abigail Keith, Ocean Irie Hilton.  The girl's projects were amazing and diverse.
---
Feb 15, 2019
Journey to the Universe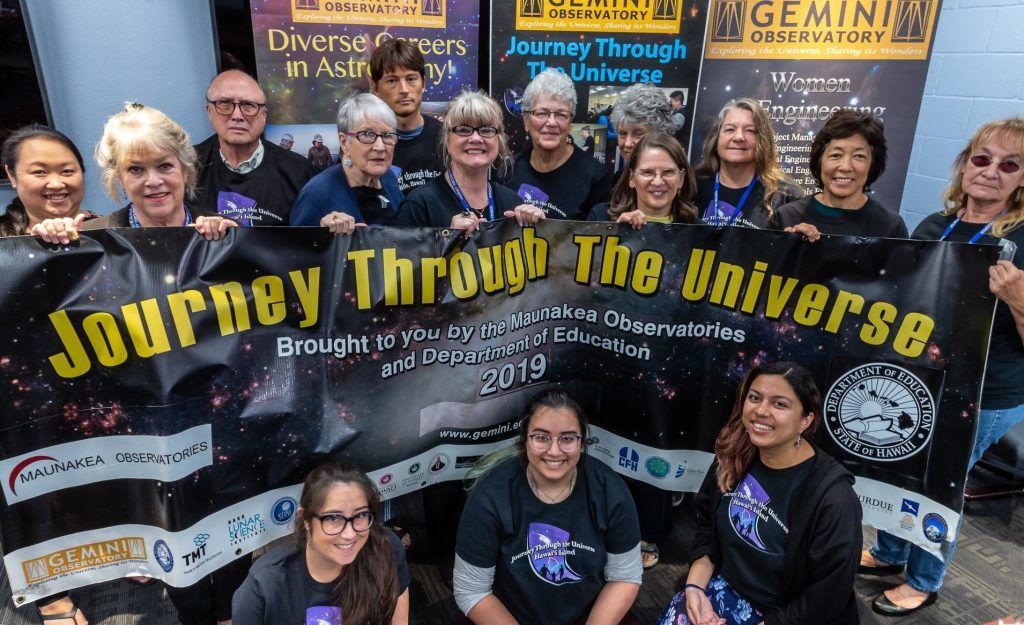 AAUW members supporting Journey Through the Universe. Our community involvement with programs that support science education for our young people. AAUW members are part of a team of ambassadors to facilitate astronomy educators pushing into local classrooms to educate and inspire over 8,000 elementary, intermediate and high school students the week of March 4-8th. AAUW ambassadors include: Barbara Meguro , Nina Buchanan, Micky Fitzgerald Christine Copes, Annette Barr, Linda Cashman, Susan Hicks, Rosemarie Muller, Erica Johnson.
---
Jan.26, 2019
Bi- Branch Luncheon with the Kona Branch –
Hilo Yacht Club
AAUW Hilo Bi-Branch event with Kona Branch on Saturday.  59 women from both branches.   Our program included a demonstration of floral arrangements using local materials by Van, whose florist shop in Hollywood, California, served several Hollywood stars, including Madonna.  He had fun stories to tell,  as well as tips for using the wealth of plant material here in Hawaii.  He  created several arrangements on site plus had several huge arrangements, which were won by members of the branches.

---
12/13/18
Holiday Dinner & Auction
Huge success for our scholarship fund since we had
140 plus items at the auction!
So many items for auction, the pictures didn't do them justice.  So we are instead posting a holiday montage that greeted people attending the scholarship fundraiser.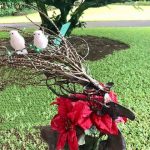 ---
11/8/18
Fall Speaker at Hawaii Community College/ General Meeting
Long time AAUW Hilo member Margaret Drake is an educator therapist, and author.  Margaret Drake  presented a slide show of the
history of the International Federation of University Women–
now the Graduate Women International,
as it is the Centennial Year of the IFUW.
---
Halloween Fundraiser/ Live Music
10/27/18

---
10/19/18
Hawai'i Island Women's Leadership Summit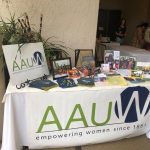 Annette Barr, Elizabeth Hansen, and Faith Jones represented AAUW Hilo at the Summit.  A most inspiring event with many organizations and women of all ages.
---
10/6 and 10/7/18
VOTER REGISTRATION
AAUW team members registered lots of voters in Pahoa
for the County.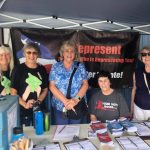 ---
5/6/18

SCHOLARSHIP LUNCHEON
Always exciting to honor our newest scholarship winners.
For more information on our winners, please see scholarship page.  
---
4/27/18 to 4/29/18
AAUW State Convention 2018
State Convention held every two years. National AAUW CEO Kimberly Churches came from Washington DC and gave an inspirational message! It was an invigorating conference, made even more exciting since Hawaii State legislature passed an Equal Pay Bill just the day before the convention started! In the first picture, AAUW National CEO Kim Churches is flanked by two members of the Hawaii State Public Policy Group, who successfully lobbied for the state's first Equal Pay Bill. Their shirts read "Advocating for women and girls of Hawaii. 

---
4/14/18   High Tea/ Fundraiser
High Tea on the Lanai overlooking the meadows and ocean for a wonderful fundraising event.
---
4/12/18
General Meeting with Branch Member Donna Barr speaking 
about her work in the Peace Corps in Samoa

---
4/10/18
EQUAL PAY DAY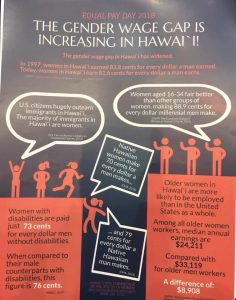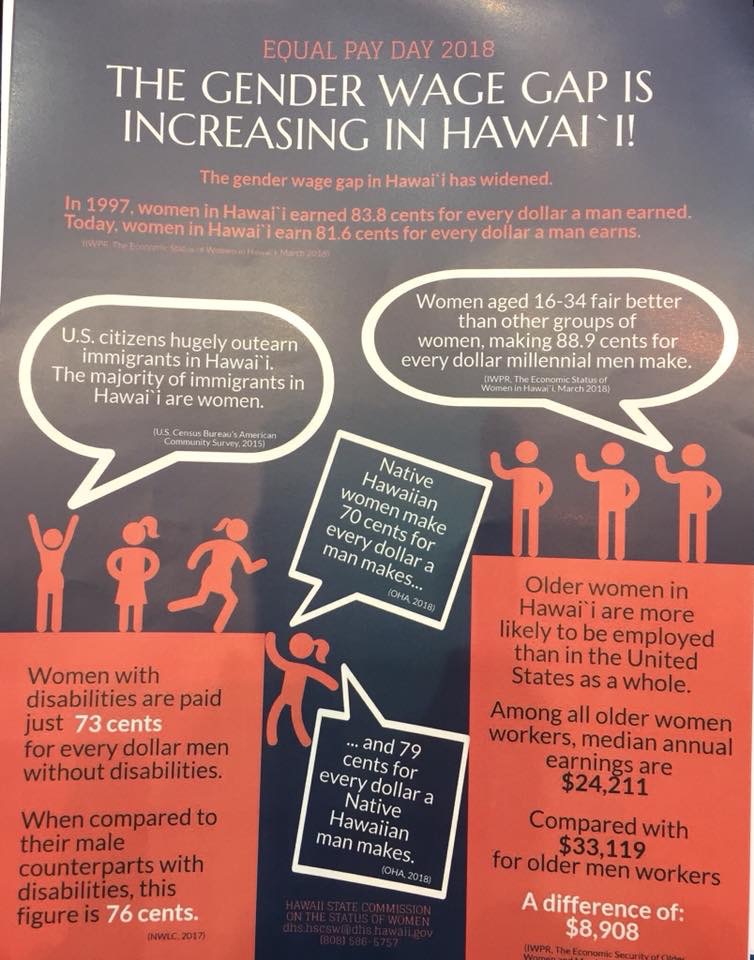 3/26/18
INTERNATIONAL WOMEN'S DAY WITH ZONTA
Many Hilo branch members attended a Zonta which honored two amazing women's as part of Zonta International's observance of International Women's Day and Zonta Rose Day. This year honorees were: US Senator Mazie Hirono in recognition of her state, national and international contributions to improve the quality of life for humanity, and community leader Irene Nagao, for her contributions to organizations and programs in our community that benefitted women, youth and individuals who needed a second or third chance at life.
.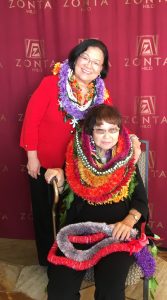 ---
3/10/18
AAUW BI BRANCH HILO/ KONA
Annual meeting held on March 10th at West Hawai'i Explorations Academy in Kona. Great camaraderie. Note Hilo member Nina Buchanan was one of the founding members of this award winning school!
---
3/6/18
JOURNEY TO THE UNIVERSE
AAUW & Zone supporting the science educational program – Journey to the Universe at local schools.

---
3/4/18
OSCAR PARTY FUNDRAISER
Just a few of the 25 ladies who attended our "Gala" AAUW fundraiser – Oscar night fun for scholarship fundraising. Rodger and Paul Steed even did valet parking!! 90 lb Ruger dog greeted all attendees cheerfully and then happily sat on the red carpet cautiously protecting the Oscar Statue!
---
3/1/18
PANDEMICS:  TRACKING CONTAGIONS,
FROM CHOLERA, EBOLA AND BEYOND
Sonia Shah, investigative journalist & author of critically acclaimed and prize- winning books on science, human rights, and international politics.  Co- sponsored by AAUW Hilo and UHH. 
---
2/17/18
AAUW Hilo Awards Junior Girls
Science/ Engineering Fair
Each year Hilo AAUW is proud to award ten middle school girls with science awards at the Hawaii District Science and Engineering Fair. The science projects were impressive, and were judged by Hilo members Barbara Meguro and Rosemarie Muller. AAUW Hilo gives awards to the girls, who historically are underrepresented in the science arena. At the evening event at the college, Elizabeth Hansen came to give out the awards, along with Rosemarie and Barbara.

---
2/14/18
Free Scholarship Writing  Workshop at UHH – 21 student attendees

 2/10/18
Hiking at Kiholo with Member Hiking Enthusiast
Susan Hicks
---
1/18/18 – General Meeting with Prior Scholarship Winner
Marleena Sheffield on Studying in Peru

Marleena Scheffield- 2016 AAUW scholarship winner gave a fantastic powerpoint presentation last night on her year long studies in Peru. Bravo Marleena- you captivated the audience!
---