2023-2024 Scholarship Recipients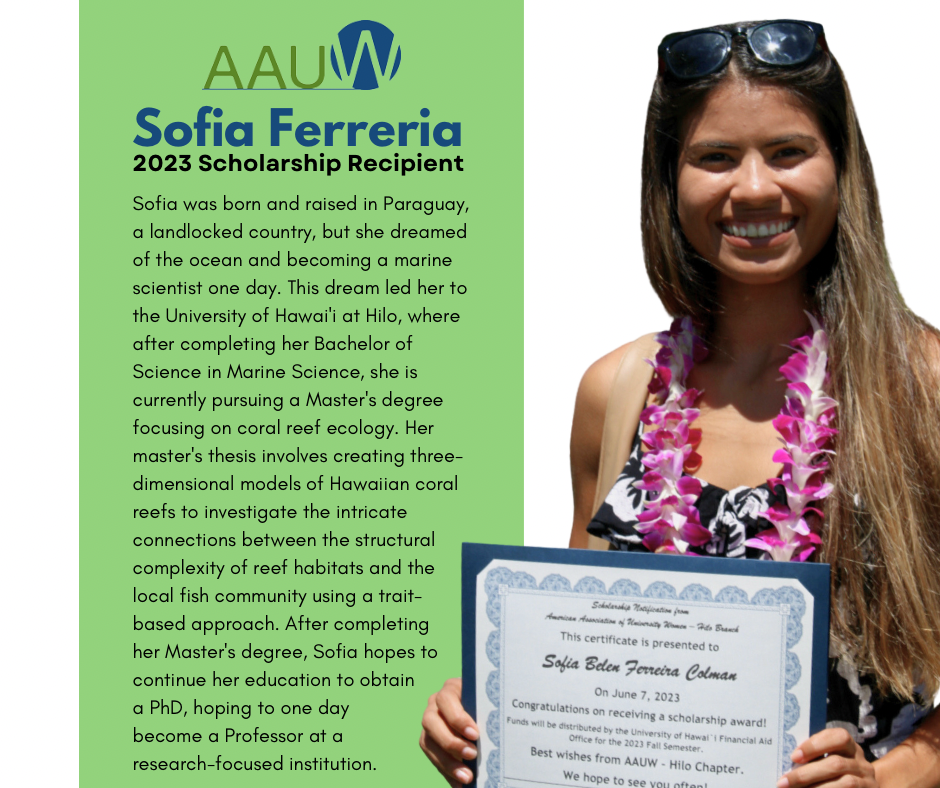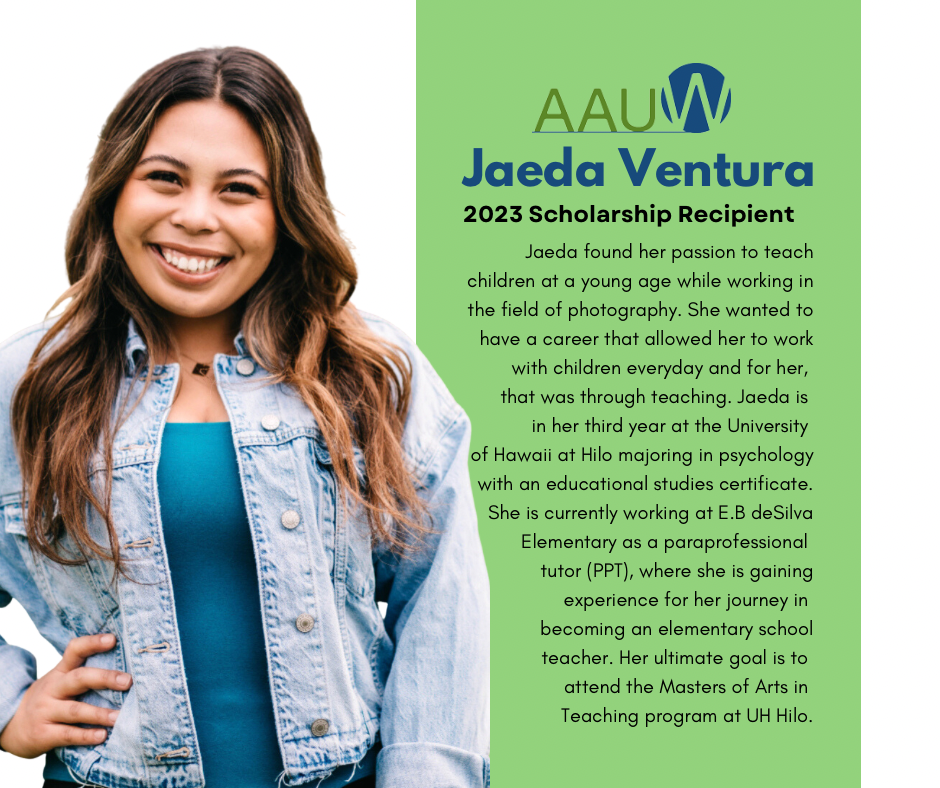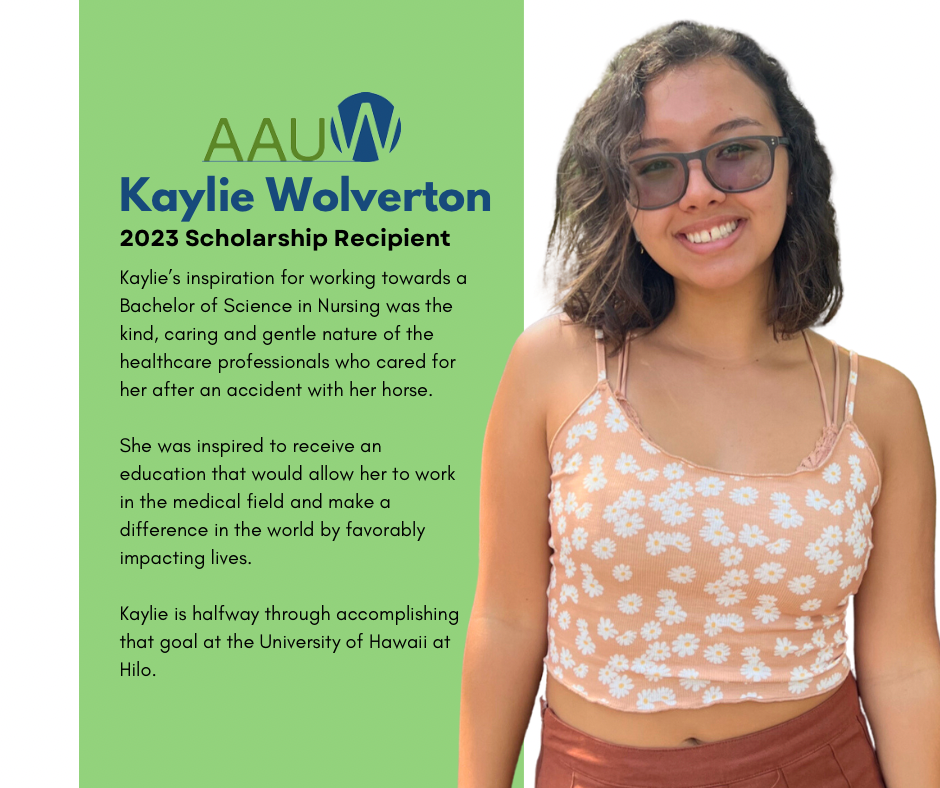 2022-2023 Scholarship Recipients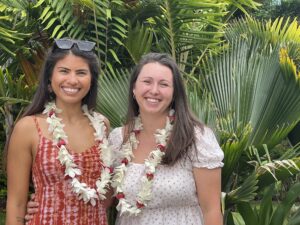 Sofia Belen Ferreira Colman was born and raised in Paraguay, a land -locked country, but she dreamed of the ocean and of one day becoming a marine scientist. She started this journey here in Hawai'i at the University of Hawai'i at Hilo. The past three years she has been focused and persistent in developing skills necessary to succeed in her field of interest—coral reef ecology. Sofia has volunteered in the Multi-Scale Environmental Graphical Analysis (MEGA) Lab, participated in Data Science Scholars, has received a Data Science fellowship with the Hawai'i Institute of Data Science and was accepted into the ADVANCE program at Stanford University. Currently, she is a research technician at the MEGA Lab through the Research Corporation of the University of Hawaii (RCUH). Her responsibilities there are managing research projects, production research reports and training new undergraduate students. Sofia will be entering the Master's Program at the University of Hawaii at Hilo this Fall in the Tropical Conservation Biology and Environmental Science.
Rachael Lear has always loved caring for animals imagined herself working with animals in a veterinary clinic. While caring for animals as a part time veterinary technician Rachael realized that her ultimate dream was to become a registered nurse and to take care of people. She enrolled in the Hawaii Community College with the goal of being accepted into the Associate of Science in Nursing Program. Rachael attends school as a fulltime student in the nursing program while she continues to work as a veterinary technician, and she raises her very proud son. Her ultimate goal is to acquire a master's degree in nursing, laying a foundation to become a surgical nurse.
2021-2022 Scholarship Recipient Allison Dupre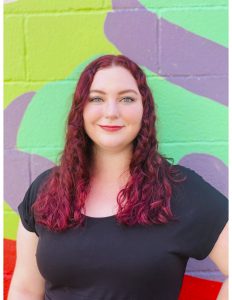 Allison Dupre is in her final year at the University of Hawaii at Hilo. She is double majoring in Business Administration Healthcare Management and in Communications. Her goal is to obtain a Masters in Public Health and then to continue in a Doctorate program that specializes in the field of Women's Health. Her dream is to be in an executive position in Women's Healthcare in order to advocate for women and to empower them in their healthcare.
Allison has been a strong advocate for women's health and gender equity in her many roles on the university campus. She has worked at the Women's/LGBTQ+ center, was the program coordinator in the Women's Resource Center, has served on the University Commission on the Status of Women, and has been part of the Division of Student Affairs Diversity Committee and on Pride Hilo. Allison has been awarded two Ka Lana Ku Student Leadership Awards and has recently been selected to join the Beta Gamma Sigma Honor Society, a top business honor society in the nation.
AAUW Hilo is pleased to award scholarship support to Allison Dupre.
2020 Recipients
Proud to announce our AAUW Hilo Branch Scholarship Winners for 2020.                             Left to right – Top Row – Maybeleen Apwong, Dawn McSwain,
Left to right – Second row: Shihui Chen, Allison Dupree. 
Maybeleen Apwong. Maybeleen's educational journey began in her home island Pohnpei in the Federated States of Micronesia (FSM). As there is no university level education in FSM, she eventually came to the University of Hawaii at Hilo to study unique environments, of ecology and human interactions, and forest dynamics. Her talent, passion and dedication for the conservation of native tropical ecosystems has inspired her supervisor to predict that Maybeleen will become "one of the leading scientists in her field to expand the scientific frontiers examining the interactions between humans and natural systems ."
She is working on her master's degree in Tropical Conservation Biology and Environmental Science at the University of Hawaii at Hilo, researching the vulnerability of the mangrove forests on her home island, Pohnpei.
Dawn McSwain. Dawn's passion resides in studying the coral reefs that provide many services all over the world, including promoting fisheries, helping to reduce the impact of storms and providing steady revenue from the tourist industry. As climate change is affecting these coastal communities' way of life, it is important to study how to mitigate possible stressors. Additionally, she wants to make sure that science is accessible to everyone, especially the keiki.
Dawn is working on her Master's degree in Tropical Conservation Biology and Environmental Science at the University of Hawaii at Hilo. She has been certified as a scuba diver in order to have research diving skills for her coral reef project. She has been teaching classes for the Marine Science Department at the University, including field work carried out on a 39-foot research vessel. Dawn feels that UH Hilo has been the perfect place to learn about coral reefs and she is excited for the opportunity to give back to the community that has given so much to her.
Shihui Chen.  Shihui is in her second year at Hawaii Community College, majoring in Liberal Arts. After completing her Associate's degree, she will attend a four year university, studying Art Management. Shihui's passion for the arts rests in her belief that art is the path to bringing diverse peoples together through understanding and appreciation; promoting cultural exchanges and the sharing of the diverse cultures.
Allison Dupre.  Allison's dream career is to be one of the administrative executives in the Women's Healthcare field. She has a deep passion for empowering women, especially in accessing adequate medical needs.
Allison has been active in the Women's/LGBTQ+ Center at the University as lead program coordinator and assists the interim director in day to day activities. She serves on the University of Hawaii Commission on the Status of Women and works in the Title IX program as a Peer Educator.
Allison is in her fourth year and is working on a double major in Business Administration Healthcare Management at the University of Hawaii at Hilo.
Prior Scholarship Winners:
2019:  Annabelle Nyers, Annalise Cogan, Kailee Yoshimura, Maya Goodoni, Ariana Dolan, Shantel Akau, Skye Narvaez, Heather Padilla

2018:  Kaylee DeCambra; Kathryn Strong; Kaimalie Zirker; Amanda Alvarado;            Liesl Nayeli
2017:  Heather Ah Cook, Katherine S. Post, Jamae Valdez Balagot, Nicole Garcia
2016: Mya Yee Nandar, Carola Geitner, Jelyn Heaster,  and Marleena Scheffield
2015:  Ashley Fukuchi, Samantha Hanabaga, Kathleen Smith, and Heather Stever
2014:  Mary Kathleen Howe, Ilana Stout, Hoang-Yen Nguyen, Stacey Reed
2013: Debra Cannoles, Evelina Kocharov, Kristy Lungo, Noriko Sata
2012: Christine Nguyen, Corina Sampaia, Ashli Hirai & Mariah Partida
2011: Christine Nguyen & Corina Sampaia
2010: Jamie Lee Cookson  & Jenny Lee Ramos & Samantha Hanabaga
Alison Martyn & Kelsea Machida
2009: Melissa Johnson & Kendall Rau
2008: Mahealani Lono & SJK Cardoza-Maikui
2007: Amanda Arce & Kerry Ogawa
2006: Lacey Price & Charmaine Bugado
2005: Christina Rossman
2004: Tiffany DelaCruz & Ariel Marsh
2003: Jennifer Camp & Tricia Macayan
2002: S. Goodman-Robinson
2001: Deborah Hamamoto