Welcome to the Hilo Branch Celebration of Members Fund Raising Initiative
The following Hilo Branch Members have been recognized and honored as outstanding members who have contributed to our local branch, to the National Branch, to our local community here on the Island of Hawaii and beyond. We invite you to donate to our Scholarship Fund as a way to honor these members and it isn't too late to nominate anyone else you would like to honor. A great way to honor women in our community and contribute to a very worthwhile cause—the AAUW Hilo Branch Scholarship Fund. Please send in a check to AAUW, PO Box 6132, Hilo, Hawaii 96720. Contact Nina Buchanan at ninab@hawaii.edu to answer questions you might have about this initiative.
All donations are tax deductible and 100% of the donations to the AAUW Hilo Branch Scholarship Fund fund the scholarships students attending the University of Hawaii at Hilo and the Hawaii Community College of Hilo. Mahalo for your contribution. Please address your questions to Nina Buchanan at ninab@hawaii.edu.
NOMINATIONS FOR OUTSTANDING MEMBER:
Many AAUW members go above and beyond in service to the Hilo community and beyond. I had a difficult time selecting just one person from our association to honor. Luckily, you can honor any member you choose.  I encourage you to do so.
Helen Hemmes. AAUW Hilo Branch is honored to recognize Helen Hemmes.
Helen has been a member of AAUW!s Hilo Branch for over 40 years, including being Branch President from 1982-1984. Her career included being an Instructor in English at UH-Manoa, a lecturer at UH-Hilo and Hawaii CC, Community Development Technician and Affirmative Action Officer (under Mayor Matayoshi) for the County of Hawaii, and President and Chief Professional Officer (CPO) of Hawaii Island United Way. Since retiring, she has been active as a volunteer,
serving on various boards including HFS FCU and Hawai!i Pacific Parks Association (HPPA). She continues her service to Rotary Club of Hilo where she was President from 2006-2007, she is an AARP Foundation Tax-Aide, and is President of the League of Women Voters of Hawaii County. She and her husband, Dr. Don Hemmes, Professor Emeritus of UH-Hilo, grew up in Iowa and lived in Switzerland for two years before moving to Hawaii. AAUW is privileged to have her as a member and participant in the book club and other activities of the Hilo Branch
Barbara Meguro. AAUW Hilo Branch is honored to recognize Barbara Meguro.
Barbara taught computer software and applications for over 30 years as a college faculty member. Her college majors were Mathematics and Educational Technology. It is no surprise, then, that Barbara has enjoyed selecting and making awards from the Hilo AAUW branch to young women at the annual Hawaii District Science and Engineering Fair. She is glad that annual college scholarships are a major focus of the Hilo branch, and she has been on the Scholarship Committee. She is thankful for the other enriching and fun activities
of AAUW, especially those that raise funds for scholarships. She is amazed at the diverse interests and contributions of the other members. She is carrying on the tradition of her mother who was an AAUW member for decades.
Rosemarie Muller. Before settling in Hilo, Rosemarie was a medical technologist. After graduating from the University of South Florida she moved to Long Island, NY and earned a masters degree in transfusion techniques. She worked at a hospital on the eastern end of Long Island in the blood bank and eventually became the laboratory supervisor before retiring.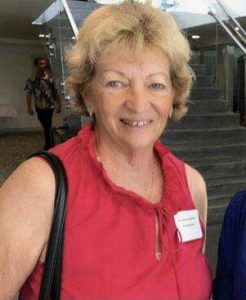 Like professional women everywhere, Rosemarie worked hard at home raising three daughters (Kelly, Jennifer & Megan), three granddaughters (Elina, Averrie & Adelyn) and two grandsons (Aaron & Christian). No wonder she was prepared to contribute so much to our community!!
I met Rosemarie when she became the AAUW Hilo membership chair. What a brave undertaking!! She hit the ground running and substantially increased our membership. Next she stepped up to become program chair and then president. Continuing her service to AAUW she chaired the scholarship committee and served on the public policy committee. Oh, not to mention she was a member of two of our book clubs and a political discussion group. But… that was just the beginning.
After the tumult of the 2016 election, Rosemarie stepped up and became the League of Women Voters president from 2017 – 2021. Wow!! She still had time and energy to serve as treasure of the United Nations Association Hawaii Island while also supporting women through her advocacy and scholarship committee work in the Zonta Club of Hilo.
Elinor Wolff. AAUW Hilo Branch is honored to recognize one of our most articulate supporters of women, Elinor Wolff.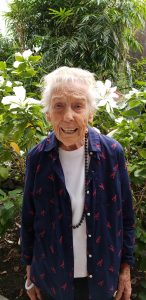 Elinor's childhood and young adulthood helped shape her understanding of the need for
empowering women of all ages. She was the middle child of three sisters who were raised by
parents who emphasized honesty, working for a living, and having no family disputes. She had a
big extended family with twelve aunts and uncles and cousins of all ages. At school and at the
many family gatherings of her large extended family, Elinor focused on studying the people
around her.
As an adult, Elinor traveled and took classes, did a variety of jobs, and acquired a bachelor's
degree and a master's degree in 1980. Her lifetime study of people led her to choose a
counseling job in Pahoa School. She spent twenty-six years there as counselor. She says that she learned so much about people, cultures, families and how hard it is for many to manage life's purposes.
Elinor has lived in many places: Peoria, Illinois; Norway; the Netherlands; Ann Arbor, Michigan;
Dutch Guinea (Surinam); Duluth, Minnesota; San Rafael and San Diego, California; and
Manalapan, New Jersey. She settled in Hawaii, with twenty years on Oahu, and forty years in
Hilo/Pahoa. She believes she left all places to continue to have experiences of life, growth and
understanding.
Helene Hale, the late former state representative and Hawaii County Council member, was her
good friend and together they founded our local United Nations Association. Elinor has been
very active in this organization as well as the American Association of University Women.
Her Baha'i faith, a world religion, has sustained her in the goal of uniting people eventually into
a more spiritual world. She believes her greatest accomplishments have been to work for peace
and world unity, and to enjoy her children and grandchildren. As a member of AAUW for over
forty years and at the age of 100, Elinor is still encouraging women to speak up and work for
justice and peace in the world.
Dr Melanie Dorado Wilson
Dr. Melanie Dorado Wilson is both a student and an administrator at Hawai'i Community College. She serves as the Interim Vice Chancellor for Academic Affairs while working toward her AA in Hawaiian Studies in support of her vision of Hawai'iCC as the state's premier Native Hawaiian serving institution. As a recipient of the President's Emerging Leader Award, she collaborated with colleagues across the UH system to write Ho'oulu Hawai'i Papa O Ke
Ao: Inspiring UH Faculty and Staff to Practice Hawaiian Culture and Language a publication detailing the professional development activities and initiatives at UH colleges and universities.
Melanie founded the college's Care Team, which works collaboratively to identify at-risk students, provide early intervention, and connect them with resources. The group works closely with the Title 9 Coordinator, Disability Services, and Mental Wellness Services. The mission and vision of the group are to promote a safe, healthy and respectful environment and an open, supportive campus community where the well-being of everyone is prioritized.
Melanie acts as a mentor to women at all stages of their academic careers and advocates for pay equity and women's rights in the workplace as a strong supporter of working mothers. She is trained as an ally to LGBTQ+ people through the Safe Zone Program, fostering a safe and inclusive environment at Hawai'i CC, and she is a vocal proponent of the College's Civility Statement and initiative.
IN MEMORIUM DONATIONS:
Dr. Robert Alan Fox, long time AAUW member Nina Buchanan's husband, died on the 1st of October 2021 at home. He was a Professor Emeritus of Physics and long-time Chair of the Physics and Astronomy Department at UH-Hilo and served as founding Deputy Director of the Pacific International Space Center for Exploration Studies.  Dr. Fox was a  member of the Rotary Club of Hilo, the Hilo Yacht Club, the National Education Association, the American Educational Research Association, and the Wine Connection.  He was an elected member of the Hawaii State Board of Education (1992-96), Chair of the NEA Higher Education Caucus, Vice Chair of the American Association of University Professors Collective Bargaining Congress and was President of the University of Hawaii Professional Assembly and Commodore of the Hilo Yacht Club.
Jane Panek had a fierce determination for truth, justice, and, above all, empowering women.  As a long time member of AAUW Hilo Branch she was a strong advocate for supporting education for girls and women in our community.  She tirelessly supported the branch's Scholarship efforts and led scholarship application workshops.  Beyond our Hilo community, Jane had a decades-long career at Molloy College, where Professor Panek oversaw the expansion of an Education Department that prepared thousands of teachers; the overwhelming majority of whom were women. Her advocacy for faculty rights later led to the unionization of many colleges nation-wide when she chaired the American Association of University Professors' Committee on College and University Governance. Jane Panek died on November 23, 2021.