Past AAUW Hilo Sponsored Events
Varied Fund Raising Events
Educati
onal Themes
___________
4/27/18 to 4/29/18
AAUW State Convention 2018
State Convention held every two years. National AAUW CEO Kimberly Churches came from Washington DC and gave an inspirational message! It was an invigorating conference, made even more exciting since Hawaii State legislature passed an Equal Pay Bill just the day before the convention started! In the first picture, AAUW National CEO Kim Churches is flanked by two members of the Hawaii State Public Policy Group, who successfully lobbied for the state's first Equal Pay Bill. Their shirts read "Advocating for women and girls of Hawaii. 

4/14/18   High Tea/ Fundraiser
High Tea on the Lanai overlooking the meadows and ocean for a wonderful fundraising event.
_______
4/12/18
General Meeting with Branch Member Donna Barr speaking 
about her work in the Peace Corps in Samoa

———–
4/10/18
EQUAL PAY DAY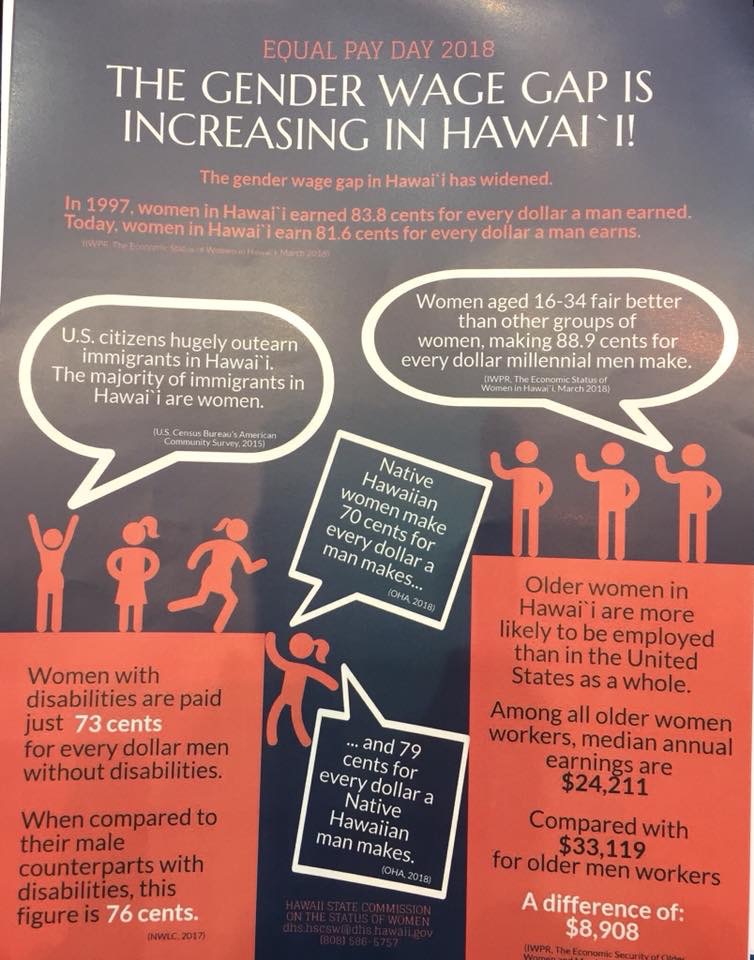 3/26/18
INTERNATIONAL WOMEN'S DAY WITH ZONTA
Many Hilo branch members attended a Zonta which honored two amazing women's as part of Zonta International's observance of International Women's Day and Zonta Rose Day. This year honorees were: US Senator Mazie Hirono in recognition of her state, national and international contributions to improve the quality of life for humanity, and community leader Irene Nagao, for her contributions to organizations and programs in our community that benefitted women, youth and individuals who needed a second or third chance at life.
.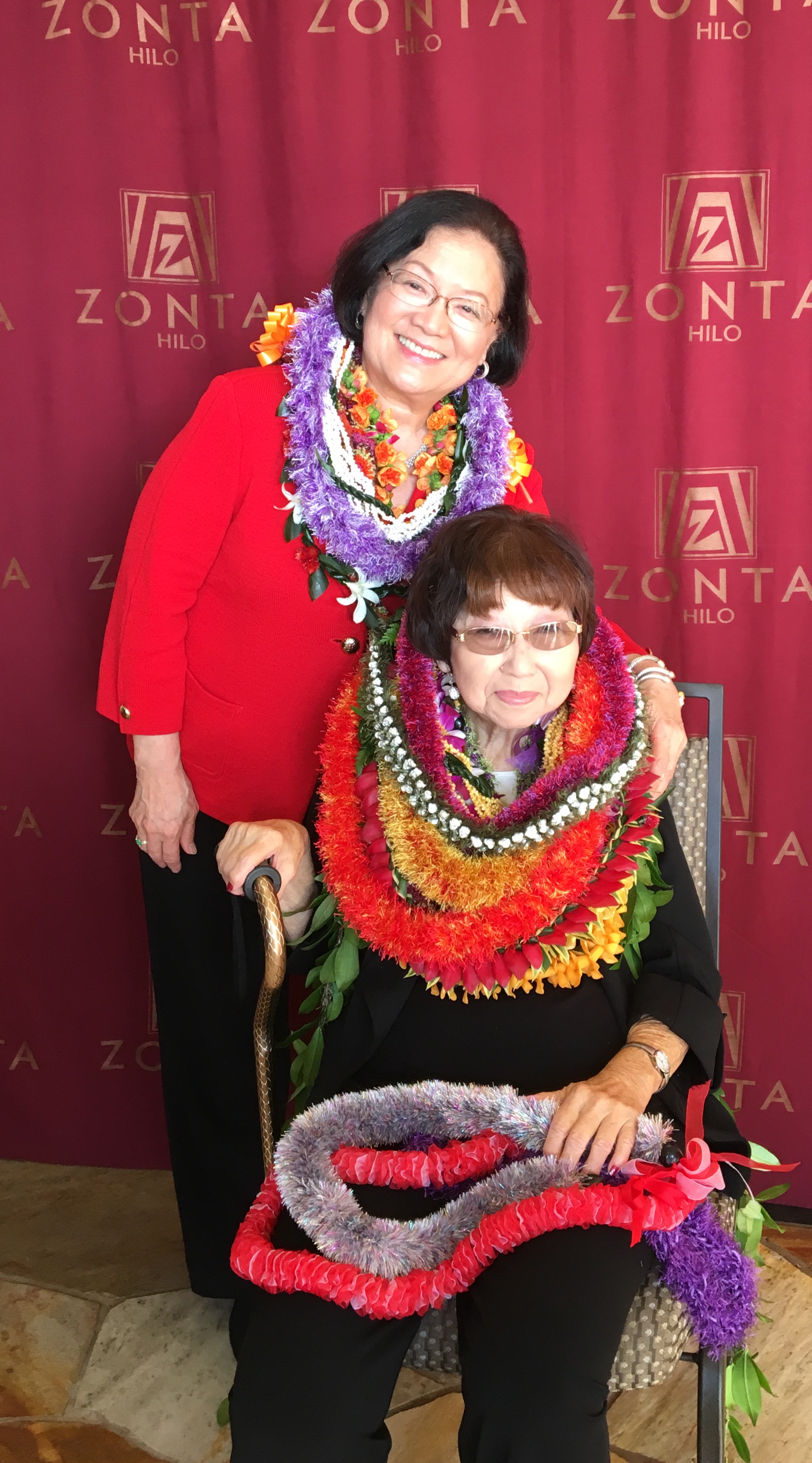 ————–
3/10/18
AAUW BI BRANCH HILO/ KONA
Annual meeting held on March 10th at West Hawai'i Explorations Academy in Kona. Great camaraderie. Note Hilo member Nina Buchanan was one of the founding members of this award winning school!
3/6/18
JOURNEY TO THE UNIVERSE
AAUW & Zone supporting the science educational program – Journey to the Universe at local schools.

________
3/4/18
OSCAR PARTY FUNDRAISER
Just a few of the 25 ladies who attended our "Gala" AAUW fundraiser – Oscar night fun for scholarship fundraising. Rodger and Paul Steed even did valet parking!! 90 lb Ruger dog greeted all attendees cheerfully and then happily sat on the red carpet cautiously protecting the Oscar Statue!
__________
3/1/18
PANDEMICS:  TRACKING CONTAGIONS,
FROM CHOLERA, EBOLA AND BEYOND
Sonia Shah, investigative journalist & author of critically acclaimed and prize- winning books on science, human rights, and international politics.  Co- sponsored by AAUW Hilo and UHH. 
———-
2/17/18
AAUW Hilo Awards Junior Girls
Science/ Engineering Fair
Each year Hilo AAUW is proud to award ten middle school girls with science awards at the Hawaii District Science and Engineering Fair. The science projects were impressive, and were judged by Hilo members Barbara Meguro and Rosemarie Muller. AAUW Hilo gives awards to the girls, who historically are underrepresented in the science arena. At the evening event at the college, Elizabeth Hansen came to give out the awards, along with Rosemarie and Barbara.
————-
2/14/18
Free Scholarship Writing  Workshop at UHH – 21 student attendees

 2/10/18
Hiking at Kiholo with Member Hiking Enthusiast
Susan Hicks
1/18/18 – General Meeting with Prior Scholarship Winner
Marleena Sheffield on Studying in Peru

Marleena Scheffield- 2016 AAUW scholarship winner gave a fantastic powerpoint presentation last night on her year long studies in Peru. Bravo Marleena- you captivated the audience!
_____
12/14/17
Holiday Fundraiser
Home of Mary Connie Banser
————
11/9/17
General Meeting – Let your voice Be heard
Special presentation from the Public Access Resource Group
from O'ahu. Presentation was on  "How things work at the State Capitol; Learn to Add Your Voice!"
——-
11/4/17 -Veterans Day Parade
 our AAUW Hilo truck all decked out for the parade.
 ———–
 10/28/17  HALLOWEEN SCHOLARSHIP FUNDRAISER
 Halloween Fundraiser for Scholarships. Notice just a few of the many details that were at this amazing event

———-
10/14/17  VISION PLANNING MEETING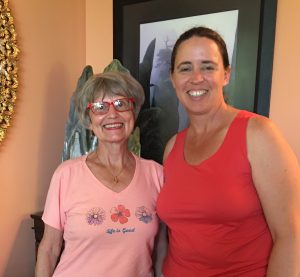 Hilo Branch Vision Planning Meeting. 18 members attended the day long brain storming session. Pictured here are 40 plus year member Helen Hemmes (left) and brand new member Springer Kaye (right) – to show the diversity of thought processes on this vision day.
---
9/20/17 GENERAL MEETING

On 9/20/17 – at our first General Meeting of the Season – Dr. Farrah- Marie Gomes, Vice Chancellor of Student Affairs at UHH was our guest speaker. She shared with us about the goals/thoughts on empowering women on Hawai'i Island through the efforts of the Hawai'i Island Women's Leadership Forum. .
Dr. Gomes is a recipient of the Pacific Business News "40 under 40" award and was recognized by the same organization as a "Woman to Watch" as part of their "Women Who Mean Business" awards. In 2014 Dr. Gomes was a founding member of the Hawai'i Island Women's Leadership Forum and chaired the 2015 and 2016 Hawai'i Island Women's Leadership Summits attended by 300 and 350 participants, respectively.
Following this we had our Treasurer Carolyn Murray, discuss our financial report for the last fiscal year. Then -as said our impromptu speaker – member Susan Hicks – she was ready to share her story after being inspired by Dr. Gomes. Susan gave a riveting presentation about her volunteering for the Red Cross this month at a "mega shelter" of 2500 displaced people due to Hurricane Harvey. Mega Kudos to Susan!
—————
9/3/17
ALOHA LUNCHEON

Starting out our new Calendar year with an "Aloha Luncheon".
40 members attended this fun event with a presentation by member Donna Barr on native Hawaiian plants.
———–
ICE CREAM SOCIAL FUNDRAISER
6/10/17
Mahalo to Annette & Kathi!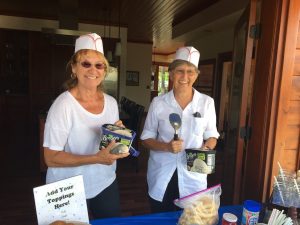 ———–
General Meeting
May 25, 2017 at 5pm
Hawai`i Community College
After a brief business meeting, we heard from our only 50 year member Janet Fujioka who spoke about her AAUW presidency and the many service activities she engaged with over the years — it was quite impressive. 
Dr. Brooke Hansen, Hilo Branch member since Sept. 2016, spoke about  "Activist Anthropology and Service Learning in Native America and Hawai`i."  She discussed her professional and personal connections with the Haudenosaunee (also known as the Iroquois) and her collaborative work with Clan Mothers, Chiefs, herbalists and community members of the Cayuga and Onondaga Nations. The course she developed and ran in Hawai`i since 1999 drew her in to the cultural revitalization efforts of Native Hawaiians and the sustainability issues facing the island. She resigned from her 18 years as a professor at Ithaca College and moved to Hilo in June 2016. She is now the interim Director of Applied Learning Experiences at the University of Hawai'i at Hilo and an affiliate Associate Professor in the Department of Anthropology. She teaches courses on women and farming, agritourism and spice agribusiness in the College of Agriculture, Forestry and Natural Resource Management. (Photo: Janet Fujioka left, Brooke Hansen right).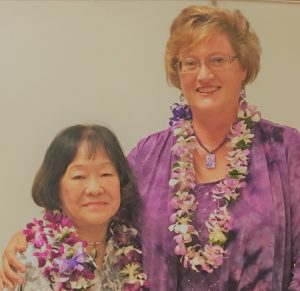 ———–
2017 Scholarship Award Luncheon May 6, 2017
We are excited to announce the first time our Hilo Branch has been able to grant $6,000 in scholarship awards!  We honored the recipients at the Scholarship Luncheon on Sat. May 6th at the Hilo Yacht Club.
We had 18 applicants and were able to award money to four students.  Two students received $2,000 each and two students received $1,000 each. Student bios below are from Scholarship Chair, Rosemarie Muller.  The scholarship decision making committee consisted of  Donna Barr, Margaret Elcock, Ann Jordan Hunt, Rosemarie Muller, and Jane Panek. 
———-
Heather Ah Cook. $2,000

Graduate student in the PharmD degree, graduation anticipated May 2020, Daniel K. Inouye College of Pharmacy at University of Hawai'i, Hilo. Heather was interested in the health field because of her family history. Her great grandmother was a "Kahuna" and made several herbal medicines to help the Native Hawaiian Community. She wants to use the knowledge and discipline given by her elders to help her community. (pictured right)
Katherine S. Post. $2,000
Graduate student in the PharmD degree, graduation expected May 2018, Daniel K. Inouye College of Pharmacy at University of Hawai'i, Hilo.  

Ever since she was young, she wanted to have a career in the medical field. She wants to be a pharmacist that works with patients to heal and recover. She herself has faced a shocking diagnosis and her journey has helped her gain empathy towards others. She is an active member in her cancer support group, Malama Ka Pili Pa'a, which currently does a lot in the Hilo community. (pictured below)

Jamae Valdez Balagot $1,000
Undergraduate at University of Hawai`i, Hilo
Biology Major : Molecular and Cellular
When she came to Hawaii she didn't know a word of English. She feels very blessed because she had the opportunity to come to Hawaii and experience a whole new life and have a better education system compared to the school in her hometown back in the Philippines. Her career goals consist of aspiring to be a Pediatrician. 
Nicole Garcia $1,000
Graduate Student – M.A. Heritage Management Program (Anthropology Departme
nt) at University of Hawai'i at Hilo. Nicole quoted in her personal statement, "To me, anthropology is the path to understanding how humans have learned from and contributed to the condition of the world today and how they (we) will frame the future. Her special interest is the history of the paniolos and the north Hamakua coast. (Nicole, right, with AAUW member Phyllis Cullen).
We of AAUW Hilo Branch salute these students and wish them happiness and success in all their future endeavors.
 ______________________________
AAUW HILO
co-sponsor of Human Trafficking Panel
4/18/17 (flyer below)
US Rep. Tulsi Gabbard (bottom left)  was one of the panelists in the AAUW co-sponsored discussion on Human Trafficking.   Seated are Panelists: Tulsi Gabbard, US Representative,Celia Bardwell Jones, Professor of Philosophy said and Gender and Women's Studies; Dale Ross, Deputy Prosecuting Attorney.  Top – Right to left:  AAUW Hilo members:  Joanna Smith, Elizabeth Hansen, Jane Panek, and Lehua McClung.
Huge audience. Mahalo to all participants from AAUW -Hilo.
—————–

---
Bi-Branch Luncheon Held at Hilo Yacht Club
1/28/17
---
Scholarship Fundraiser working with materials and expertise donated via the silent auction from the Holiday Party
---
Holiday Party and Auction
December 8, 2016

Our annual holiday party and fundraiser was held on December 8 at the beautiful home of Sheryl Rawson. The house was sparkling with holiday cheer and everyone was in the holiday spirit.
---
November 16, 2016
5pm
UH Hilo UCB 100
Film screening of IRON JAWED ANGELS

---
General Meeting
November 3, 2016 at 5pm
HCC room 379-1
Speaker: Bobbye St. Ambrogio
VP Programs – Annette Barr
She has had over 35 years experience with community policing and working with the public.Her talk will be about introducing the "volunteer spirit" in all of us.
---
HALLOWEEN FUN – FUNDRAISER
SAT. 10/29/16
HOME OF ANNETTE BARR
Our AAUW Halloween Fundraiser on Saturday was a huge success.
It was a elegant, fun, and full of creative details coupled with wonderful food.
———
AUGUST 2016

Join us to start the new AAUW Hilo Calendar Year at the home of Linda Levine.
CLIFFSIDE, overlooking the ocean!   Don't miss it!
Catered Lunch – Details to follow.
---
DRESS FOR SUCCESS NOW THRU 9/30/16
---
---
Voter Registration
AAUW Hilo branch members helped with Voter Registration on Friday, October 7 and Monday, October 10 at Malama Market in Pahoa.
Registered 63 new voters on Monday alone.


---
First General Meeting of the season-on- Thursday, September 22, 2016.
Deb Lewis's presentation was titled "Positively Takes Courage!".
—-
ALOHA LUNCHEON
SUN. 9/4/16 – HOME OF LINDA LEVINE
—————–
8/26/16
AAUW Hilo at  2nd Annual Hawaii Island Women's Leadership Summit
Over 350 women – ranging from college students to stay-at – home moms to working professionals to retirees attended this amazing conference. Per the conference goals–
"It was a chance to empower women through knowledge, strength and equality." Workshops and key note speakers were inspiring.
AAUW Hilo Branch was one of the groups offering a table with information on our organization. After all, AAUW's mantra as noted on all our literature ( and our banner pictured below) is "empowering women since 1881". Pictured left to right– Past Branch President Rosemarie Muller and Current Branch President Elizabeth Hansen on right reported that they were energized and enthused at being at the one-day summit, held at the Hilton Waikoloa Hotel.
—–
7/27/16- Hawaii County   Mayoral Forum – All Candidates Invited
11 of the 13 Mayoral Candidates participated in the moderated forum with AAUW Hilo and LWV co-sponsors.   Media coverage by NaLeo TV, live broadcast by KPUA 670 AM radio,live stream broadcast by Hawaii 24/7 and covered by Big Island Video News. To highlight the plight of the homeless on the Island, Hope Service sold rice and chili as a fundraiser during this dinner hour forum.
————————–
5/7/16 SCHOLARSHIP LUNCHEON HILO YACHT CLUB –
HONORING OUR SCHOLARSHIP WINNERS/ INSTALLING NEW OFFICERS
Three of our four scholarship winners, 2016.  Left to Right:  Mya Yee Nandar, Carola Geitner, Jelyn Heaster, Marleena Scheffield (not pictured)
2016/ 2017 Board Members: Carolyn Murray- Treasurer, Kathi Katz,-VP Fundraising, Elizabeth Hansen- President, Annette Barr- VP Programs, Sheryl Rawson- Secretary; Julie Goettsch, Membership VP (not pictured)
Mentee Ashley Fujkuchi/ Mentor Joan Lindenau
  
Centerpieces with cards showing Famous American Women to Emulate
Outgoing President Rosemarie Muller speaking with guests under AAUW banner
————-
"ADVOCATING FOR WOMEN IN PARADISE"
AAUW-Hawaii's Convention 2016
4/29/16 to 5/1/16
Even in our beautiful state of Hawaii, there are issues and problems to address. This year's convention will focus on how AAUW responds to the needs of women in our state by providing information, inspiration, support, and an avenue to work toward a more just life for every woman in Hawaii.
Sessions will include: Access to Success – Helping Women Achieve in Community Colleges, Legislative Efforts to Curb Violence Against Women – Our Public Policy at Work, and Reproductive Rights – The Challenges to Maintain a Healthy Environment for Women.
———————
A BURMESE WOMAN'S JOURNEY"
4/14/16
A riveting presentation about "A BURMESE WOMAN'S JOURNEY" is open to the community. Mya Yee Nandar, a UH Nursing Student, will present her story which is both frightening and courageous. Beginning as a tour guide, leading people to remote parts of her country, and discovering utmost poverty and lack of health care inspired Mya Yee Nandar to become involved in the health profession. Nadal began her study in Thailand and ultimately she was recommended to come to the University of Hawaii at Hilo. What Ms. Nandar will share with the audience is like nothing they have heard previously. This event is being planned by the American Association of University Women (AAUW), the UH Women's Center, and the UH Women's Studies Department.
——————
HIGH TEA & AUCTION FUNDRAISER
Home of Dinnie Kysar, Hakalau
April 2, 2016
Successful fundraiser in a Bucolic setting overlooking the ocean and the pastures.
—————-
About Patsy Mink
Ahead of the Majority Film screening / Panel Discussion
3/30/16
ABOUT PATSY MINK, PAST MEMBER OF AAUW HILO BRANCH!
 In 1965, Patsy Takemoto Mink became the first woman of color in the U.S. Congress. Seven years later, she ran for the U.S. presidency and co-authored Title IX, the landmark legislation that opened up higher education and athletics to America's women. Patsy Mink was a Member of AAUW Hilo Patsy Mink: Ahead of the Majority is the story of this dynamic trailblazer who, battling racism and sexism, redefined American politics.
Panelists tonight included: AAUW Hilo member & UHH Professor Emerita, Nina Buchanan, Libby Bailey, UHH Title IX Coordinator, and UHH Assistant Professor Christopher Lauer, who teaches a class on the Philosophy of Sports, which includes the impacts of IX legislation. Left to right in picture: AAUW Hilo President, Rosemarie Miller, Lehua McClung- UHH Women's Center, Libby Bailey, UHH Title IX Coordinator, UHH Professor Lauer, UHH Professor Emerita Nina Buchanan, and Elizabeth Hansen, AAUW Hilo- Membership VP.
————
3/7/16 TO 3/11/16
JOURNEY TO THE UNIVERSE
MEMBERS ASSISTING IN SCHOOL PROGRAM

————
3/16 /16 – GENERAL MEETING at HCC
Speaker Debra Cannoles – an AAUW-Hilo 2013 Scholarship Recipient.
Her presentation was on "Teach for America-Hawaii".
——–
 MONTHLY HIKE 3/5/16
WAILUKU RIVER HIKE

OSCAR PARTY FUNDRAISER 2/28/16
HOME OF SHERYL RAWSON
 
2/16/16; 2/10/16
FREE WRITING WORKSHOPS
STRATEGIES FOR PREPARING APPLICATIONS FOR SCHOLARSHIPS
Location- UHH- open to any student interested in strategies for preparing applications for scholarships.  Focus particularly on those  wishing to apply for the AAUW scholarships.
———–
2/13/16
AWARDING GIRLS AT SCIENCE/ ENGINEERING FAIR

Middle School girls receiving AAUW Awards
Above: multiple years tee shirts received over the years by middle school participants
————-
2/6/16
AAUW HILO HIKE GROUP
FIRST EVER GROUP to PU'U O UMI
AAUW HILO HIKE GROUP FIRST EVER GROUP TO GO TO THE PU'U O UMI NATURAL AREA RESERVE in the Kohala Mountains.  Anya Tagawa was our hike leader. She received a grant from AAUW for her Masters , and will be the speaker in May at our General Meeting.
————
SAT. 1/30/16
HILO/ KONA BI-BRANCH ANNUAL LUNCHEON
MAI GRILL, HILTON WAIKOLA GOLF COURSE
Hilo- Kona Bi-Branch Luncheon Waikoloa. Great meeting/ camaraderie between branches in a fabulous venue. Guest Speaker: Nicole Lowen, Hawaii State House Representative, who represents Kailua-Kona & Holualoa (pictured alone at mic). 
HOLIDAY PARTY & FUNDRAISER AUCTION 2015
Fundraiser auction was a great success, as was a successful festive party at the home of member Joan Lindenau.

 ———–
GENERAL MEETING –11/18/15

Branch updates and
Guest Speaker, Lisa Rantz,
Executive Director, Hilo Medical Foundation
Pictured:  Events VP- Kristen Luning, President- Rosemarie Muller, Guest Speaker- Lisa Rantz, Member- Helen Hemmes, and HCC  Mentee- Valerie Belcher.
——

SOCIAL EVENT – INFORMAL GET TOGETHER – 11/11/15
WAINAKU  EXECUTIVE CENTER, HILO
Social fun and networking  overlooking the lovely Hilo Bay
Gathered together to socialize, enjoy the music and views.
————
PROGRESSIVE DINNER FUNDRAISER- 10/17/15
MEMBERS HOMES / KEAAU SUBDIVISION

Pupus/ Main Meal/ Dessert at the homes of three members,
who reside in walking distance of each other.
—————-
GENERAL MEETING 9/16/15 – SPEAKER Marina Karides,
UHH Associate Professor of Sociology
"From the Caribbean to the Mediterranean and into the Pacific: Gender Studies, Island Studies, and How an AAUW Educational Foundation American Fellowship Launched a Career"
———
ALOHA LUNCHEON 8/30/15
Hilo Yacht Club
AAUW Member – Phd Pharmacology Student
Nalini Yadav was guest speaker. 
Lovely setting to start our new season.  
————–
JULY 2015 HIKE
This is a Palila protected area in high ,dry forest. Hike was led by Biologist Anya Tagawa, a former recipient of an AAUW scholarship, which she used to complete her Masters degree. The other leader was her biologist husband Jackson, and their delightful 2 yr old son. We also went up Pu'u Huluhulu. 

———————-
AUTHOR AT BOOK CLUB
7/12/15
 Mark Panek, author of Big Happiness:  The Life & Death of a Modern Hawaiian Warrior attended the Sunday AAUW book club.  Fascinating to get the direct scoop from the author himself.  Mark wore the shirt that commemorates the book's main character- Percy Kipapa- the same shirt that the family tried to wear at the trial of Percy's murderer. 
—————
6/20/15  KALOPA HIKE
————–
5/20/15- LAST GENERAL MEETING FOR FISCAL YEAR
Jennifer Stotter, UHH Director of Equal Opportunity Office and Title IX Coordinator was guest speaker, engaging her audience.
————-
5/3/15–SCHOLARSHIP LUNCHEON
SALUTING OUR AWARDEES
2015 Awardees:
Ashley Fukuchi, Samantha Hanabaga, Kathleen Smith and Heather Stever.
 
———-
WAILUKU WATERSHED HIKE
4/25/15

So many waterfalls, lots of hikers to enjoy the wonderful view.  They counted at least eight waterfalls!  So lucky to live in the Hilo area!
  
 ————-
4/23/15- UHH Campus Center- 301
Labor Pains: Fighting for Women in Science
AAUW Hilo & UHH Women's Studies co-sponsored 
LABOR PAINS: FIGHTING FOR WOMEN IN SCIENCE
. Getting more women into STEM fields isn't only the right thing to do, it's the smart thing to do, according to AAUW. 
Panel discussion covered: Career options for a science degree; What Women Scientists research; Why Women leave the sciences. Panel Moderator: Dr. Celia Bardwell-Jones, Assistant Professor in Philosophy and Program Coordinator of UHH Women Studies. UHH Panel Participants include: Dr. Kathy Cooksey, PhD in Astronomy and Astrophysics, Assistant Professor in Physics and Astronomy; Dr. Marianne Takamiya, PhD in Astronomy and Astrophysics, Associate Professor and Chair of Physics and Astronomy; and Dr. Natalie Crist, PhD in Chemistry, Instructor of Chemistry.
———————
4/14/15
Equal Pay Day Luncheon
Bamboo Hale

April 14, 2015 was Equal Pay Day and AAUW Hilo marked the occasion with several members having lunch at Hawaii Community College's Bamboo Hale Cafe. Lunch was delightful as usual. The students are really getting to be pro's!
The Thai menu had spring rolls, salad, and a beef entree. The Asian Menu offered other delicious options, so everyone had plenty to choose from.
Our speaker was financial consultant, Roxanne Dante. She not only talked about financial issues, but also about issues related to women's "lower pay".
Just two more weeks left for the fine dining experience at HCC. Food from China on April 22 and the final meal for this semester on April 29, with food from Hawaii.
—————–
MENTORING UHH STUDENTS
ACADEMIC YEAR 2014/15
————-
4/12/15 BOOK CLUB

BABY SHOWER/ BANNED BOOK
Sunday we had a monthly book club where we hosted member Ann Jordan Hunt with a Surprise Baby Shower. But first we discussed the "most banned book in 2014" – which was a wonderful book called "The Absolutely True Diary of a Part-Time Indian" by Sherman Alexie.
———–
3/28/15
High Tea and Auction Fundraiser
Home of Carrie Blankfield.

 
Another Amazing event held by Carrie!
Lots of great items; food and camaraderie!
 —————
GENERAL MEETING 3/25/15
Julie Goettsch presented her tremendous slide show on the underwater wonders in Hawaii, the Maldives, and Beyond.  Amazing photos and great explanations of these undersea treasures.  This followed our general meeting where we discussed upcoming events and women's issues.
————–
MONTHLY HIKE
TRIP TO KIHOLO BAY

3/21/15

Today Susan Hicks arranged a hike for Kiholo Bay, a pleasant coastline walk with and swim in the Queens Bath. Susan said she never saw turtles like these here, swimming upstream as if they were salmon.
——————
BAMBOO HALE -2/27/15 CARIBBEAN STYLE
Margaret Wille, County Council member from district #9, and Kristine Kubot, Recycle Hawaii, were the two speakers for the lunches. We had an impressive group of 15 members all eager to hear these women's initiatives on Zero Waste. It resulted in an engaging discussion on resource management issues.
————————
BAMBOO HALE -2/15/15 GERMANY
Our Bamboo Hale Luncheon today traveled to Germany. An appetizer of Grilled House Made Bratwurst with house made sauerkraut, then we were served a Lentil Soup with cured bacon. Of course it wouldn't have been complete without an entree of Sauerbraten, red cabbage and spatzles in brown butter. Then if you still had some room, a dessert of German Chocolate Cheesecake with sweet cherry juice. Quite delicious.
Our speaker was one of our newer members, Marva Furmidge. She has led a very adventurous life. Her Grandmother traveled to Honolulu from California in 1920 with seven children ages 3-12 to work with the missionaries. It's what eventually brought Marva back to Hawaii when she retired. Started out with a tour in the armed services in Biloxi, Mississippi, then to New Orleans getting a nursing degree and finally to San Francisco obtaining a law degree.
——————
MARDI GRAS WINE TASTING
FUNDRAISER FOR LOCAL SCHOLARSHIPS
FUN TIME AT FUND -RAISING
FORTUNE TELLER SYLVIE DAHL
WINE TASTING BY KADOTA LIQUORS 
—————
FREE COMMUNITY HEART/ STROKE HEALTH SYMPOSIUM
2/12/15
     
AAUW co-sponsored a Free Community Health Forum at UHH, along with the American Heart Association and the UHH Student Health and Wellness Program.
Dr. Lim, Cardiologist in Private Practice and at the Hilo Medical Center, discussed prevention of cardiovascular disease, heart attack, cardiac failure and stroke.  Lynne Penek-Holden, Dietician,  demonstrated easy healthy recipes, and Ann Oshiro-Kauwe from the American Heart Association had a large selection of heart health information literature available for the community.  
—————-
2/11/15- ITALIAN THEMED BAMBOO HALE
Third week of Bamboo Hale transported us to Italy. Started off with Grilled Polpo, followed by a warm spinach salad with pear slices and cured Panetta. The entree was a scaloppini of pork loin and house made gnocchi. Some ordered the dessert which was a vanilla panna cotta.
Our speakers from Destination Hilo – Dinnie Kysar and Olya Jenkins spoke  about the Hilo Gateway Aloha Ambassador and Hawaiian Culture Program.
—————
2/9/15  – SCIENCE/ ENGINEERING FAIR AWARDS
Pictures of  young budding scientists who won the Science/ Engineering Fair awards.
——————————————
FREE SCHOLARSHIP APPLICATION WORKSHOPS

 2/4/14 & 2/5/15
The AAUW Hilo Branch offered free workshops on how to write winning scholarship applications. The workshops are open to all students, male and female. Hints on writing successful scholarship applications of ALL types. Emphasis was placed on the importance of the Personal Statement portions of scholarship applications, as well as insight into why certain information is requested on these forms.
Top Picture: Community Workshop participants. Bottom Picture: AAUW members, Jane Panek,Phyllis Robinson;  and staff of UH Hilo Academic Center-Karla Hayashi and Lindsey Heller.

———————
GENERAL MEETING  1/21/15

IS SCIENCE A MERITOCRACY?
ISSUES OF DIVERSITY & EQUITY
 Speaker Kathy Cooksey, Associate Professor of Physics and Astronomy at UHH enthralled the audience with her presentation on "Is Science a Meritocracy?  Issues of Diversity and Equity".  Agenda also included upcoming community events and scholarship fundraisers.
———————–
BI- BRANCH / KONA & HILO AT VOLCANO RIM RESTURANT
LUNCHEON & VOLCANO AREA HIKE 1/17/15
——————
 HIKE TO THE TOP OF A CINDER CONE  – 1/10/15

Our AAUW hiking group hiked to the top of a cinder cone on the Kona side today!  About two miles straight up! Beautiful day!
———————–
AAUW HILO HOLIDAY PARTY 12/10/14
AT NANI MAU GARDENS– Margaret Drake was the esteemed auctioneer handling the service auction items for our scholarship fund
—————
AAUW AT UHH- WOMEN & ART – 11/28/14

Hilo Branch participated in an UHH sponsored event on how Art Empowers Women.  Shown is Rosemarie Muller, an UHH robotics student, and Bonnie Burke.
—————
 2ND GENERAL MEETING – 11/19/14
Well-known Hilo Jazz Vocalist, Lou Ann Gurney was the guest speaker at this meeting.  Lou Ann, who had once been a winner of an AAUW  scholarship  while in college, spoke on "Whims".  A branch business meeting followed this engaging topic.
—————-
HIKE TO GREEN LAKE  9/27/14
 —————-
ROCK AND SOUL FUNDRAISER PARTY 9/26/14

  With continuous music by  live bands  of Body & Soul and Jazz Mele, this event at the home of Kristen Luning was so much fun!   Turns out Lou Ann Gurney, vocalist for Jazz Mele was an AAUW scholarship winner in college and she donated the money from selling her CDs last night all to AAUW! Mahalo Lou Ann.
—————
FIRST GENERAL MEMBERSHIP MEETING OF THE BRANCH – 9/24/14

As newly installed President, Rosemarie Muller  presented the new strategic plan to the group, originally drafted by the members of the branch executive board. Membership VP  Elizabeth Hansen announced that we added 12 new members since Jan. 2014!  Rosemarie solicited input from the members present about ideas for the upcoming year as well as ideas for future.  Scholarship Chair Mary Connie Banser presented a future plan for the branch to become an official non-profit so we can receive endowments for the scholarship fund. Event VP Kristen Luning reviewed the upcoming mentoring program and other events.
————-

YARD SALE SAT. 9/13/14
Benefiting UHH Scholarships

Home of Susan Hicks
——————
8/28/14
HILO AAUW / COMMUNITY EVENT
RAT LUNG WORM DISEASE
FREE PANEL PRESENTATION FOR THE COMMUNITY

UHH -PHARMACY DEPARTMENT
Rat Lung Worm Disease (RLWD) is an emerging global tropical disease increasingly found in Hawaii Island.  The more valid updated information you know, the better you can protect yourself and your loved ones. 
History of RLWD;
Updated Information from Current Research;
Best Defenses against this disease
Specific Strategies to Reduce Risk in Hawaii; 
Info on Medical Treatment
Hear Testimonies of people who have had RLWD.
Panelists include: Susan Jarvi – UHH Associate Professor, Director of Pre-Pharmacy; William Pettis-LAC Dean of Oriental Medicine, Director of HICOM Natural Health Clinic; Steven Jacquier- Researcher/ Retired Professor/ Masters & ABD; Marlena Dixon State Health Department  Disease Outbreak Control Division, Disease Investigation Branch. 
 —————————–
ALOHA LUNCHEON – 8/23/14
Home of Linda Levine
Guest Speaker- Sara Witt:
"Connecting with your Legislative Officials
————————
 SPECIAL HIKE IN A RARE PLANT ENCLOSURE  8/14/14
Hike Length. 2 1/2 miles .Elevation . 3,800 ft.
Leader: Anya Tagawa, Biologist DLNR

 ________________
 AUTHOR MARK PANEK DISCUSSED HIS BOOK "HAWAII, A NOVEL"
BOOK GROUP MEETING 8/10/14
We were honored to have Mark Panek at our last Book Group Meeting.  He reviewed his
book as well as issues of being an author.  The group was thrilled to hear him speak about his fascinating and comprehensive novel  about Hawaii in recent years. A must read for those who live here and those who are planning a visit.
 ———
AAUW HILO MEMBERS WORK ON VOTER REGISTRATION
 7/9 & 7/10/14
   
 Workers at the Registration were:  Roberta Vangoethem , Nina Buchanan, Liz Hansen, Laura Williams May, Susan James, June Conant, Phyllis Robinson, EricaJohnson, Mary Connie Banser, Kristen Luning, Shirley Mendoza, Karen Leger.
—————–
GMO PANEL DISCUSSION
5/29/14 /UHH- Science & Technology Building

In recent months Hawaii Island residents have been hearing bits and pieces of local debate on the efficacy of growing genetically modified crops for their consumption. These "genetically modified organisms", or "GMO" crops have been discussed, promoted, assailed, and wondered about by almost all of us who live here. The Hilo Chapter of the American Association of University Women and the UHH Women's Center presented a free panel discussion examining both sides of this complicated and complex issue. AAUW member Julie Goettsch provided her services as the moderator.
Panelists representing the "Pro" position: Richard Ha, local farmer, businessman, owner of Hamakua Springs Country Farms and Hawaii Board of Agriculture member, as well as Russell Nagata, Hawaii County Administrator,University of Hawaii at Manoa/ College of Tropical Agriculture and Human Resources.
Panelists representing the "Con" position: Hawaii County Council Member representing North and South Kohala, and Chair of the County Agriculture and Sustainability Committee, as well as Dr. Hector Valenzuela, Professor, University of Hawaii at Manoa, College of Tropical Agriculture, and Vegetable Crops Extension Specialist.
——————
AAUW MONTHLY HIKE
5/10/14 – TO SHIPMAN BEACH
The hike is 2.5 miles one way from end of Kaloli Dr to Shipman Beach. 8 of us attended today's hike and enjoyed our lunch in the shade on shore & swim in the beautiful bay. There was a turtle & several fish in the water but not good for underwater picture taking because the water was too cloudy. 
————
SCHOLARSHIP LUNCHEON HONORING FOUR INSPIRING WOMEN 5/4/14
Ho'olaule'a Mei… May Day Hawaiian Style when we awarded our newscholarship winners,  and had our general meeting. Home of Julie Goetsch, Hakalau.   Our 2014 Scholarship winners were: Mary Kathleen Howe, Ilana Stout, Hoang-Yen Nguyen,  Stacey Reed.
—————–
 MENTORING STUDENTS AT UHH – CLOSURE CEREMONY 5/1/14
   

—————-
LAST BAMBOO HALE OF SPRING  – MAY 1, 2014
Our last lunch of the semester. It was an upscale take on Hawaiian Regional Cuisine. Our 1st course was Ahi Poke Stack Salad, 2nd course a Pork and Watercress Soup and our Entree was Chicken "Hawaiian Plate". Dessert was a Coconut Sorbet of Poi Balls and Tropical Fruit Garnish.
We have had the delight to experience many cuisines during this semester. Rosemarie would like to thank you all for your patronage and involvement with the students' culinary education at Hawaii Community College.
————–
AAUW Hawaii State Bi-Annual Convention, Oahu
"Half the Rainbow– Exploring the Challenges
&  
Opportunities for Women in Hawaii–APRIL 25- 27, 2014
AAUW-Hawaii (State Organization)  held its bi-annual convention at the Ala Moana Hotel in Honolulu hosted by the Windward Branch. Our theme is borrowed from the Kristoff & DuWunn book, Half the Sky. Like the authors of this important publication, we explored some of the most disturbing challenges to the equality of women in our state: domestic violence, human trafficking, and the persistence of inequity in pay.  Visits to the state capital; inspiring presentations. Time to re-connect our seven branches: sharing successes, brainstorming solutions to problems, and developing strategies to avoid burn-out among our leaders.
————-
BAMBOO HALE – NEIGHBORHOOD PLACE OF PUNA -4/24/14
Our speaker was Paul Norman, the executive director of Neighborhood Place of Puna. Their goal is to ensure that families have access to the resources and skills they need to raise safe and healthy children. He alerted us with many depressing statistics but also told us of some success stories. Since April is Child Abuse Awareness Month, Neighborhood Place of Puna is a great resource to recommend if needed for someone. Their services are free, voluntary, supportive and confidential.
Our lunch bunch enjoyed a delicious menu of Japanese foods, with an awesome culinary presentation.                           
———————
BAMBOO HALE: "SEX ON THE REEF"– 4/16/14
AAUW member and scuba diver, Julie Goettsh presented a slide show titled,
"What's under that gorgeous ocean view you have been looking at all this time?,
or, Sex on the Reef".  Her photos were just stunning. We had a great attendance of 18 members plus some guests. Menu was a special feast from the Philippines. 
—————-
BAMBOO HALE:  THE HUMAN GENOME– 4/11/14
Guest speaker at Bamboo Hale's lunch was Dr. Rick Kelley. He is a retired geneticistfrom Houston, Texas. He makes his home now here in Orchidland.He explained to us about
The Human Genome. The mapping and understanding of all the genes of the human being. He talked about the ethical, legal and social implications of this newfound genetic knowledge.
—————-
SILENT AUCTION/ HIGH TEA FUNDRAISER 3/29/14
  
Hats at the High Tea/ Silent Auction Fundraiser were a hit. So many great items to choose from has allowed us to fund a scholarship for one student in just one afternoon! Mahalo to Carrie Blankfield, hostess and auctioneer extraordinaire! Great job by Mary Connie Banser who assisted in getting every one to amp up their bids. Event at home of Carrie Blankfield of Hilo.
———————-
NATION OF VANUATU "KASTOM WEDDING"                                             BAMBOO HALE 3/21/14
Member Rosemarie Muller shared some interesting information about the Melanesian Nation of Vanuatu. She passed around some pig tusks, mats and shared photos of her daughter's "Kastom Wedding" on the island of Pentecost in the nation of Vanuatu.  South of the equator is Vanuatu, a country made up of 83 islands.  Vanuatu  is one of the World's least developed countries and has been labeled one of the "Happiest Places in the World".
The Kastom Wedding had many cultural ceremonies. There was a snake ceremony with yelling, whistling, and dancing with fire, smoke and water. A Red Mat Ceremony, a Pig Ceremony, then dancing, eating "laplap" and drinking lots of "kava".
——————-
LOOKING BACK, LOOKING FORWARD:
40 YEARS OF THE WOMEN'S MOVEMENT IN HAWAII- 3/20/14


Meda Chesney-Lind is Professor of Women's Studies at the University of Hawaii at Manoa.
Nationally recognized for her work on women and crime,  her books include:  "Girls, Delinquency, & Juvenile Justice;  The Female Offender:  Girls, Women & Crime;  Female Gangs in America; Invisible Punishment; Girls, Women and Crime; and Beyond Bad Girls:  Gender Violence and Hype.    She has just finished an edited collection on trends in girls' violence entitled: Fighting for Girls:  Critical Perspectives on Gender & Violence, published by SUNY Press.  
————– 
DRESS A GIRL AROUND THE WORLD                                                         BAMBOO HALE 3/14/14
Dress a Girl Around the World was the topic of AAUW speaker, Susan Hicks, at Bamboo Hale lunch on 3/14/14. Dress a Girl is a campaign under Hope 4 Women International. They are trying to bring dignity to women around the world since 2006. Susan and a few of her friends from the Center of Spiritual Living in Hawaiian Paradise Park get together and sew dresses out of pillowcases and fabric. They have sewed 500 dresses in the past two years. Susan told us that village pastors say that a girl wearing a new dress presents an appearance that she is well cared for and may discourage would be predators. Imagine- What if every girl had just one dress?   At the Bamboo Hale we dined on a Mexican themed menu. 
———————–
March 10-14, 2014
JOURNEY THROUGH THE UNIVERSE
THROUGH GEMINI FACULTY
AAUW members served as ambassadors for program
in Hilo Complex Schools
 —————–
TEACHING AT AMER. UNIV. OF BEIRUT DURING THEIR CIVIL WAR  3/6/14 BAMBOO HALE

Our member, Laura Williams-May, gave an adventurous and hazardous description of her time while teaching at the American University of Beirut during their Civil War. We were served a Puerto Rican based  menu.
————-
OSCAR NIGHT VIEWING – FUNDRAISER FOR SCHOLARSHIPS – 3/2/14
So much fun at this dress up fundraiser.  Red Carpet, Celebrity lighting,                                           great camaraderie and everyone looking so great!   Event at home of                                          Elizabeth Hansen in Hakalua.
—————–
MENTORING STUDENTS AT UHH — SPRING SEMESTER 2014
Hilo Branch's Mentoring Program started Feb.25 and will run the Spring Semester.  AAUW was aligned with other women from Zonta and UHH faculty to become mentors for the UHH students.  The Initial introduction was via a "Speed Mentoring"."  Ashley Fukuchi UHH Women's Center student staff did a wonderful job coordinating the event with Hannah Wu & Kristen Luning. Another UHH WC student staff Josh Lewis was noted for research and assessment.  Kristen's mentee from last fall Rebecca Higan talked about her participation during the fall semester.  Twenty two mentors and mentees had 2 minutes for each speed interview. It was very exciting with everyone talking and having a good time. Mentors made closing remarks about important concerns in education and careers. Matches will be announced 2.28 and mentors will contact mentees to make their 2 luncheon dates in March and April. A Closure Event will be held at the end of the Spring Semester. 
 ———————-
2/18/14 MICRONESIA AT BAMBOO HALE
Dr. Ruth Robison, who has served as International Student Services Director at UHH, engaged our lunch members with an informative talk about The Federated States of Micronesia. She lived in Saipan for several years. She spoke of the diversity of the many islands as well as the rich culture of Micronesia. She also brought different ethnic shell necklaces for each lunch attendee.  Luncheon consisted  of a menu from the Southern Part of the United States.
———————————————————————————–
2/21/14- At Bamboo Hale– NEW BOOK  Presentation
Hilo Branch member Nina K. Buchanan, Professor Emerita UHH, spoke about her new book, "Proud to be Different: Ethnocentric Niche Charter Schools in America."  Book  features chapters on Hawaiian, Native American, Black, Hellenistic, Turkish, Somali and Latino Schools. Co-author is husband Robert Fox, pictured with Nina Buchanan above.
——————
 2/20/14–GENETICALLY MODIFIED CROPS EXPLAINED BY GENETICIST

On 2/20/2014 AAUW Hilo Branch co-sponsored Dr. Rick Kelley to present a lecture on "The Genetics Behind Genetically Modified Crops" at UHH. Over 100 attendees from the community were at presentation, and people were lined up one half hour before the presentation to assure they got seats. Before retiring to Hawaii in 2012, Dr. Kelley was on the genetics faculty of Baylor College of Medicine in Houston where his research focused on the molecular mechanisms controlling how genes are activated or silenced. His talk on Feb. 20th was for nonscientists who want to understand the basic concepts of GMO crops and the controversy surrounding their use.
 ———————-
Feb. 19 & 20, 2014
Training – Writing Workshops for Scholarship Applications
 In preparation for 2014 Scholarship applications, American Association of University Women (AAUW) Hilo Branch once again partnered with
Kilohana
, the Academic Success Center at UHH, to offer two Writing Workshops.
All UHH students were invited to attend, since improved skills in creating a Personal Statement could assist any student in many facets of their lives; from applying for scholarships to enhancing their chances for success in future work environments.
————————–
CPR ANYTIME- 2/14/14
Lunch at Bamboo Hale on 2/14/14 featured Sylvia Beanes from LA and who works for The American Heart Association. Sylvia gave a talk and demonstration on the new "Family and Friends CPR Anytime Kit.  You can practice skills on your own inflatable manikin while watching a demo on the DVD. Each luncheon attendee received a CPR Kit on "Lifesaving skills in 20 minutes."
———————
 
2/8/14  SCIENCE & ENGINEERING FAIR- HILO BRANCH
PRESENTS AWARDS


The Hawai'i District Science & Engineering Fair was held at the 'Imiloa Astronomy Center of Hawai'i for judging. The Science Fair Awards Presentation was held at UHH.  AAUW members Barbara Meguro and Kristen Luning judged & awarded 10 junior female research students in the junior division. Cash awards and certificates of merit were given to the 10 students.   Winning topics ranged from Habitat Study on Pacific Golden Plover (Kolea);  to Ocean Acidification, what shall we do?
 —————–
ORCHID ISLE PROJECT EXPLAINED BAMBOO HALE 2/4/14
Since the Hawaii County Council has officially proclaimed 2014 as the year of the Hawaii Grown Orchid, Julie Goettsh, past president of Hilo Orchid Society, spoke about the Orchid Isle Project she is directly involved in. The project is about placing orchids in parks, public places and anywhere that visitors and residents can see and enjoy. She also showed us the 2014 Orchid Calendar that was created. Before everyone left, she presented each attendee with an orchid/growing kit to hang on a tree at their home.
————————
     KONA/ HILO BI-BRANCH LUNCHEON 1/11/14
At the Annual Kona/ Hilo  Bi-Branch meeting held in Hawi, members of both groups shared event highlights from 2013 and watched a slide presentation on Hawaii sea life.
—————-
Dec. 12, 2013- Holiday Party
Annual Holiday Event at the home of Mary Connie Banser in Keeau enjoyed lots of guests.
——————-
   11/16/13 HIGH TEA & PRESENTATION  
                        
High Tea event held at the home of Dinnie Kysar in Hakalau enjoyed a presentation by JoAnn Aguirre, owner of "Teaching Tea" Shop in Hilo.  
—————
   10/26/13  PROGRESSIVE DINNER  

Food and fellowship just naturally go together. Each course taking place at a different member's home.  Progressive Dinner at three different homes in close proximity
Homes of Jethlyn Gregory, Erica Johnson, and Nina Buchanan
——————–
OCT. 3, 2013
WOMEN IN POLICE WORK  FORENSIC ART & FACIAL RECONSTRUCTION

Presentation by new AAUW member Ingrid Dean, retired Michigan State Police Sergeant, now working for the Hawaii Police Department. The art presentation explains how forensic artists generate drawings of suspects and how they create likenesses of unidentified people with clay on human skulls.
——————

August 2013- Aloha Luncheon
Started the new AAUW season on a great footing with Aloha, great food, and meeting new members. Great presentations included overview of AAUW National Convention by Barbara Iwami and Virginia Stein, as well as a discussion by new member Margaret Wille, Hawaii County Councilwoman. 
——————-
OTHER YEARS HIGHLIGHTED  IN OUR ARCHIVED NEWSLETTERS
—————-